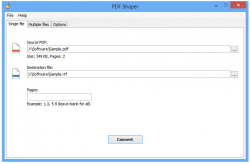 Having a document in PDF format is okay but it is not very convenient to use especially when you need to edit its content. If you wish to convert your PDF into a format that is more edit-friendly, you better use a file converter like PDF Shaper to convert it to RTF format.
What Is It and What Does It Do
Main Functionality
PDF Shaper is a free PDF to RTF converter for Windows. It is a simple program that is created and developed by Glorylogic. What this software does is that it lets you convert any of your PDF files into rich text format (.rtf) so that you could view and edit your documents using Microsoft Word or any other word processor that supports RTF format (all major word processors support RTF format). This software supports batch conversion.
Pros
Simple, user-friendly interface
Easily converts PDF files to .rtf – a type of document format that can be viewed and edited using today's most commonly used text editors such as WordPad and MS Word
Supports batch file conversion – just drag and drop your PDF files into the converter
You can set or format your output documents
You can specify the pages that you want to convert – ex. only page 5, only page 3 – 9, etc.
Fast PDF – MS Word file processing / conversion
Supports conversion of images, lists, tabbed columns and tables
Cons
Cannot properly convert PDF forms with advanced formatting – ex. registration forms, e-books with photos and tables
Doesn't directly convert files into .doc or .docx formats — only converts PDF files to RTF
Discussion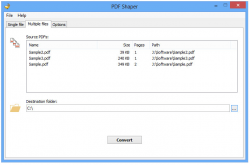 To be honest, I was quite disappointed with the performance of this software. Considering all of its above stated features, I was expecting it to do a really good job in converting PDF files to MS Word. Unfortunately, it failed to meet my expectations since it couldn't even properly convert a simple one-page PDF file with only one table. Nevertheless, it did not have any problems when it comes to converting texts.
Still, I don't see the point of using a PDF – Word converter if it couldn't really do all of the things that it is supposed to do. In other words, the PDF Shaper has it good points and bad points. Let's start with the good points.
What's good about this software is that it has a simple and user-friendly interface. By simply looking at its interface, you could easily tell which is which. Its interface features a total of three tabs. The first tab is for single file conversion while the second tab is for batch conversion. The third tab, on the other hand, is meant for customizing the file output. This means that you could easily set the software to convert your file into plain text or image. You're free to set the elements that you want to skip or process.
Moreover, the software could process a single-page file in less than a minute. It's fast and its speed basically depends on the number and quality of pages that you are trying to convert. So if you are trying to convert a whole e-book into Word that would obviously take a longer time to process.
Now here comes the disappointing part, the PDF Shaper may be fast but it's not 100% accurate. It could convert text and paragraphs without any problem but when it comes to converting files with advanced formatting, it seems to have some difficulty in keeping the file's original appearance. Let's just say that you want to convert a PDF-formatted registration form with tables and images into MS Word, the outcome will only retain the text and some of the special characters. This is the actual output despite of setting the software into full file conversion. In addition, this software won't convert your files into .docx or .doc format. You can change the file extension but your word processor won't open the file. It will only tell you that the file is corrupted.
Conclusion and Download Link
If you're looking for a reliable PDF to Word/RTF converter, it would be best for you to skip this software. PDF Shaper is not that reliable when it comes to converting your documents. On bright side, there are reliable PDF to Word/RTF converting tools out there that you can use for free such as UniPDF.
Price: Free
Version reviewed: 1.4
Supported OS: Windows NT/2000/XP/Vista/7/8 (32 and 64 bit)
Download size: 7.4MB
VirusTotal malware scan results: 0/45
Is it portable? No
Related Posts