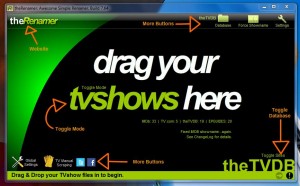 When downloading videos, movies and TV shows from torrents and other sources you often end up with files named improperly. A lot of times they include information about their author, format or resolution. It can be a hassle to rename everything properly, especially when you're dealing with a large collection of episodes or video files. The Renamer is a free Windows application that is specifically designed to rename and organize any TV shows or movies.
What is it and what does it do
Main Functionality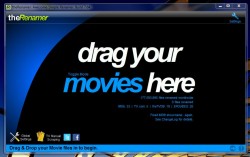 The Renamer is a Windows application designed to rename and organize your movie and TV files. It also includes a couple of additional features like popular database integration (IMDB, TV.com), and an automatic file mover.
Pros
Will help you rename your movies and TV shows properly thanks to the help of several online databases
You can select the database you prefer to collect information from
There are several additional tools which allow you to do things like move files to a specific directory and more
It's relatively light on system resources, using just 36MB of RAM while running
Cons
VirusTotal displayed 1/45 potentially harmful flag, recognized as the "Suspicious!SA" from Agnitum. This is most likely a false positive but proceed at your own risk.
I ran into a snag during first startup, which had something to do with never using Internet Explorer before (this was easily fixed by running IE once)
It requires an active internet connection to use properly (obviously)
Discussion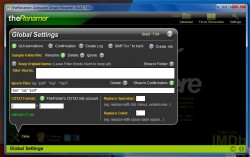 The Renamer is, for the most part, automated with exception to the fact that you have to drag the related files and drop them in the window. Any settings or changes you would like made to the file should be configured beforehand through the application settings. You can do many things like ignore certain file formats, keep the original name and even shift the word "The" in the title to the rear. Of course, there is a whole different set of options for movie files.
You can toggle the app to alter filenames for movies or TV shows by clicking on the word in the center of the window. As you hover over various options, various elements change colors indicating that you may interact with them. For example, you can click on the database name in the lower right hand corner to cycle through the various reference databases.

You can also turn an "automove" feature on or off, which will automatically move altered files to a specific directory. This is especially useful if you have your completed downloads stored in one folder and your movie or TV library stored in another.
The drag and drop support is a real convenience, and it's even more so when you start throwing files at the app. Out of a whole slew of files I used for testing (about 15), The Renamer got every single one of them right. Imagine my excitement then, when I realized that both XBMC and Windows Media Center recognized the information that had been embedded thanks to this app.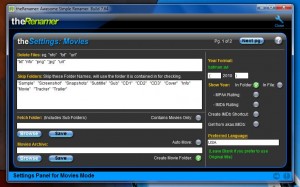 As the developer points out on the official website, the site is able to convert the following naming string into the finished product as follows:
From this:   [vd-mux-ita]The.Unit.1×01.Piromane.ITA.DVDMux.[colombo-bt.org].avi
To this:       The Unit.1×01.First Responders.avi
It doesn't take long to complete either and there are several databases available in case one of them is not able to find a proper match for the file.
For reference, The Renamed uses around 36MB of RAM while running. For an app of this caliber that can be considered lightweight.
Conclusion and download link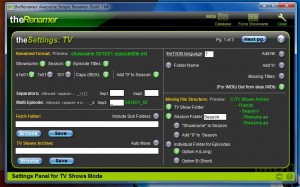 The Renamer is actually a powerful tool if you download a lot of movies and TV shows from various sources (hopefully legally, of course). It will help you both organize and correctly label your content, with the help of several media databases. It even makes uses of a couple additional tools which help you move the files to a user defined directory, and ensures that just the information you desire is updated. On the very first boot I ran into a snag where the application operated through a continuous loop trying to gain an internet connection. After some digging, I found out this apparently had to do with Internet Explorer, which I have never run on my test system before (I use Chrome instead). Once I started up Internet Explorer, I restarted The Renamer and everything was fine again. Be sure to take that into consideration if you decide to try it out. If you need this type of functionality. I suggest giving The Renamer a go — it will help you put together a more tidy media library.
Price: Free
Version reviewed: 
Supported OS: Windows 8/7/Vista/XP

Download size: 3.85MB
VirusTotal malware scan results: 1/45
Is it portable? No
Related Posts