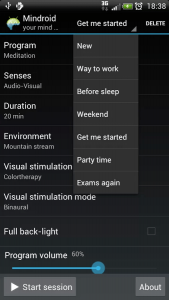 Have you ever thought of having an app that could help make your brain feel more calm, creative and relaxed? Well, you might be interested in this unique app that will help you attain a desirable mental state using auditory or visual stimulation. This app is called Mindroid. Let's find out if this app really works.
What Is It and What Does It Do
Main Functionality
Mindroid is an auditory-visual stimulation app that is developed by Urbandroid. While the effectiveness of this app may vary from person to person, it actually functions like a typical mind machine since it helps induce a variety of desirable mental states such as sleep, productivity, learning, waking up, meditation and relaxation. What this app does is that it provides your brain with audio-visual signals that will help stimulate your brain waves. When using this app, one is required to use a pair of stereo headphones. Warning: This app is not recommended for those with epileptic or cardiac symptoms.
Pros
Simple and user-friendly UI
Helps stimulate your brain to achieve a desirable mental state
Offers two default programs for a 20-minute AVS (Auditory Visual Stimulation) session – Productivity and Relaxation
You can adjust the program and environment volume according to your liking
Cons
Majority of this app's features are only available to paid users – if you want to use the rest of this app's programs, you have to purchase its pro version (Mindroid Unlock) for $1.99. With the pro version, you can use all of the app's available programs such as the ones listed below:

Sleep
Meditation
Learning
Wake Up

You cannot adjust the rest of the app's settings such as the duration of your session, the type of environment sound, the visual stimulation color, etc. (only available in the pro version)
Discussion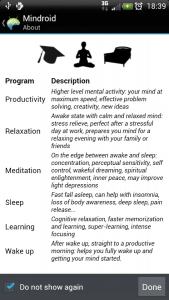 While there are a lot of studies proving that brainwave stimulation could help a person become more creative and relaxed, its effectiveness will still depend on how a certain individual reacts to auditory and visual stimuli. In other words, some people may feel the positive effects of the Mindroid app while some people may not be able to feel anything at all. It is also very important to keep in mind that this application is not meant to be used by individuals with epileptic or cardiac symptoms.
Furthermore, the free version of Mindroid only offers limited features so you really can't gauge its full effectiveness by merely trying out its default programs. Speaking of which, the only available programs that you can use in the free version are those that help induce productivity and relaxation. Each program offers sessions that lasts for 20 minutes but you cannot change or customize its settings. This means that you cannot set or adjust the duration for each session and you cannot also change the color of the visual stimulator. Except for the volume and the backlight options, everything else is pre-defined.
While I do not have any issues regarding the app's pre-defined settings, it could have been better if the free users are allowed to try out the app's pro features even for just a limited period of time. For example, giving free access to Mindroid Unlock for 14 days and after that, it's up to the user if he or she would opt to purchase the pro version. This way, everyone has the opportunity to try out the effectiveness of this application.
So far, I only tried using the app's "Productivity" mode and I couldn't say that it has a significant effect on my current mental state but it did help me become more alert and awake. For a first-time user who is not really into meditative practices, I could say that this app did help in stimulating my brain's creative process.
Since Mindroid is a type of application that uses audio-visual signals to stimulate brain waves, its effectiveness will definitely vary from person to person. Furthermore, mental stimulation requires subsequent sessions. Nevertheless, the most important thing is that this app does provide the different signals needed to stimulate the brain. You will know if it is working since you will hear a pulsating sound. This type of sound normally disappears when you remove your earpiece. Just don't forget to wear a headset.
Conclusion and Download Link
The free version of Mindroid may not be as good as its pro version but it does work. Of course, the effects of brain stimulation will vary per individual but if you want to feel more productive and more relaxed, I suggest that you try out this app. And if you like it enough, you can upgrade to the pro version.
Price: Free, $1.99

Version reviewed: 1.4.2
Requires: Android 2.1 and up
Download size: 2.7MB
Related Posts