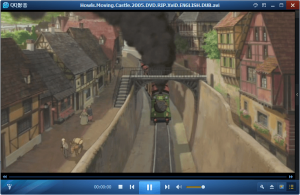 Wouldn't it be nice if you have a multimedia player that could easily take screenshots of your favorite scenes in a particular movie or music video? How about a music player that has the ability to automatically show the lyrics of your favorite songs? With QQ Player, you can do both plus you could also create a lot of animated GIFs.
What Is It and What Does It Do
Main Functionality
QQ Player is a multimedia player that is developed by Tencent. Just like any other multimedia players, this player can play audio and video files in different formats. In addition, this software also has the ability to convert audio and video files. You can also use this software to split lengthy videos into short clips, to take screenshots, to create animated GIFs and a whole lot more.
Pros
Neat and user-friendly UI
Can play audio and video files in various formats – supports .mp3, .mp4, .flv, .wmv, .3gp, .ogg, .avi, .midi, .amr, .mpeg, .mpg, .m4b, .m4p, .m4v and a whole lot more
Can play 3D movies (videos) and online videos (play via URL)
Has the option to play videos or movies in full screen or compact mode
Automatically shows the lyrics of the songs that you're currently playing
Takes screenshots, creates animated GIFs, splits videos into shorter clips
Can create and edit playlists
Can convert audio and video files into other formats – .mp3 to .3gp, .avi to .mp4, etc.
Wi-Fi support, directly transfers your audio and video files to your mobile device (iPad, Android)
Customizable UI skin, texture and color
Cons
Some of the controls are labelled in Chinese so it's difficult to identify what they're actually meant for
The playback options for repeat track, repeat all and shuffle aren't included in the media player's main control buttons
The lyrics for the songs are mostly set in Chinese
You cannot minimize the media player to the system tray area
Discussion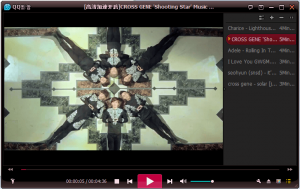 Without a doubt, the QQ Player is one the most reliable multimedia player for Windows. It has all the features that you need for playing your media files plus it also features a lot of extra tools that you thought you could never find in a decent media player. It is also very easy to install and it has a user-friendly UI. My only concern when it comes to this software's UI is that some of its controls were not properly translated. So if you do not know how to read Chinese, you'd have to rely on your guessing powers.
Functionality wise, this media player does a really good job and it can play media files very smoothly. The video quality is good, the audio is clear and you can even opt to show the lyrics of your favorite songs. The only problem with this feature is that most of the time, the lyrics are set in Chinese but if you get lucky, you could find some decent English lyrics.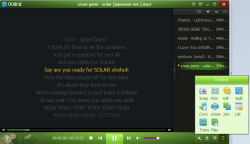 Anyways, what makes this media player even more unique is the fact that it comes with a variety of value-added features such as its ability to convert media files into different formats. It can even compress and split videos into shorter clips. That's not all. This software can also take screenshots and if you're not satisfied with still images, you can re-capture your favorite scenes and moments thru animated GIFs. What's even more interesting is that all of these features do not require you to download any additional software or plug-in. They're all integrated in QQ Player. So if you want to use any of these features, just go to the "Toolbox" in the main control panel.
What I also like about this software is that it can easily transfer your media files from one device to another. Since it has a built-in Wi-Fi support, you're free to transfer the media files from your PC to your iPad or smartphone. Of course, this means that you have to install the software's mobile version.
While I really like most of the features of QQ Player, I just think that it would be nicer if it could enhance or modify some of its features. Like, for example, it would be great if there are shortcut buttons for file playback especially for repeat track, repeat playlist and shuffle. It would also be great if the software will be fully translated to English. The same goes for its song lyrics. On a positive note, it's great to have a reliable media player with customizable skins, texture and color.
Conclusion and Download Link
QQ Player is a reliable and excellent media player. It's a great alternative for those who do not wish to use the likes of VLC, Winamp, or Windows Media Player. Plus, it is packed with a wide range of value-added features. While all of its controls may not be fully translated into English, it's still very easy to use. If you are in the market for a media player, give this one a go.
Price: Free
Version reviewed: 3.7.892
Supported OS: Windows (All versions)
Download size: 29MB
VirusTotal malware scan results: 0/44
Is it portable? No
QQ Player homepage [Softpedia download page]
Related Posts