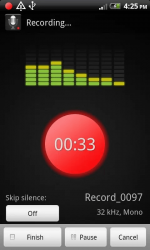 Having a voice recorder on your tablet or smartphone actually comes in handy especially if you've got something very important that you need to record. It could be a brief talk that u had with a very important person or you simply want to record your own voice. Whatever your reason is, you definitely need a reliable voice recorder. If you still haven't found one yet, you might as well check out this app called Smart Voice Recorder.
What Is It and What Does It Do
Main Functionality
Smart Voice Recorder is a free voice/sound recorder application for Android. It is created and developed by Andrey Kovalev. With this simple sound recording app, you can easily record your voice or any other sound. All of your recordings will be saved as a WAV file and you can easily share them to your family and friends via Bluetooth, SMS or Gmail.
Pros
Neat and responsive user interface, easy to use
The sound quality for the default sampling rate (8 kHz) is okay – minimal background noise
You can set the sampling rate to its highest setting – 44.1 kHz with a maximum recording length of 2 hours
You can pause, resume or cancel your recordings
Your voice or sound recordings will be automatically saved to your SD card
You can rename, edit or share your recordings via Bluetooth, Facebook, Google Drive, Dropbox, Evernote, SMS, Skype or Email
You are free to set any of your recordings as your default alarm sound, notification sound or caller ringtone
Automatic and manual configuration for Skip silence mode
Record any sound while the app is running in the background
Cons
The overall sound quality, regardless of the sampling rate, is just average. You can't really expect this app to give a top-notch sound recording output.
You cannot save your recorded audio as MP3
There's a glitch in recording sessions – there are times when the app won't resume the recording after a brief pause
Discussion
Smart Voice Recorder has some advantages and disadvantages. First, let's talk about its advantages. It's basically a simple app that lets you record your voice. It could also record any sound that you can possibly think of. Not only that, this app also features a decent user interface with user-friendly controls. You won't have any trouble figuring out how to use this app since it is very direct to the point.
Furthermore, you can adjust the app's settings according to your liking. You can opt to enable or enable its "Skip silence mode" feature, you can adjust the quality of the sample rate, you can set or change the location of your recordings, etc. So when you're all set to record, you simply press the "record" button and then the app will record any sound that you want it to record. You can also continue with your recording sessions while leaving the app running on the background. This will also allow you to do other things on your tablet or smartphone.
What I also like about this app is that you can immediately set your recordings as your device's default ringtone, notification or alarm sound. The app also features a built-in sound or audio player. Thus, there is no need for you to use a separate app just to play or preview your sound recordings. You can even share your recordings via Bluetooth, Gmail, WhatsApp, SMS, Facebook, etc. By default, all of your recordings will be saved to your SD card but you are allowed to store or save your files to a different folder.
As for the disadvantages, the Smart Voice Recorder may be good enough to record a variety of sound recordings but even if you have already set the sampling rate to its highest quality, the sound quality is still a so-so. It's not bad but it is also not that good enough to be considered as a top-notch recording. Of course, the quality of your audio recordings will also depend upon your phone or tablet's built-in microphone. If you want a better sounding audio recording, then you might want to use an external microphone.
It is also a bit disappointing to know that you can only save your audio or voice recordings in .wav format. You cannot format your files as MP3 plus there are occasional recording glitches. There was this instance where I chose to pause my recording but right after I pressed the resume button, the app suddenly stopped the recording session.
Conclusion and Download Link
The Smart Voice Recorder is a simple recording app but I don't recommend it. The recording quality is not as good as it can be plus there is a bug in the program. For those who would like to use a more reliable voice/sound recorder, you might as well opt for Digipom's Easy Voice Recorder.
Price: Free
Version reviewed: 1.6
Requires: Varies per device
Download size: 280KB
Smart Voice Recorder on Play Store
Related Posts