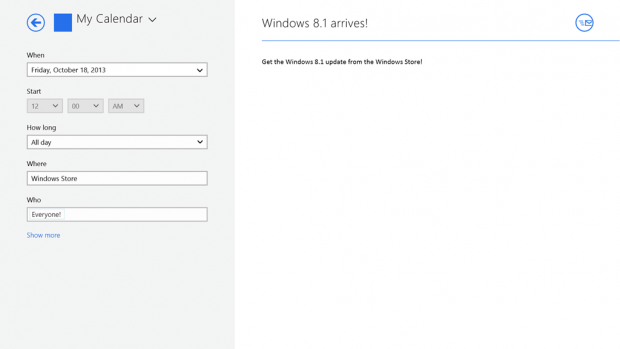 Shortly after news broke that Windows 8.1 would be out sometime in October, Microsoft has decided to give us the official word. Windows 8.1 will be officially available on October 17th.
If you already own Windows 8, you'll be receiving Windows 8.1 as a free update from the Windows Store on the 17th. If you're looking to purchase it at retail or on a new device, you'll have to wait until a day later on the 18th.
Alongside its announcement of a release date, Microsoft made sure to remind us about the new features that will come as part of Windows 8.1:
Windows 8.1 continues the vision we began with Windows 8 and is an example of our commitment to continuous innovation and improvement for our customers. And Windows 8.1 brings many improvements in areas like personalization, Internet Explorer 11, search which is powered by Bing, built-in apps including a few new ones, an improved Windows Store experience, and cloud connectivity with SkyDrive (and much more) that people will enjoy.
When Windows 8.1 hits this October, it'll be just shy of a year since Windows 8's been in the market — perhaps a sign that annual updates like 8.1 are indeed Microsoft's plan for its desktop OS.
Will you be picking up Windows 8, or 8.1 when its released this October? Why or why not? Share with us in the comments below!
Related Posts