Last week I wrote about a Ghostery, a Firefox add-on aimed at helping users protect their privacy. Well in the comments section of Ghostery, there was an excellent discussion going on about Firefox add-ons (I am still surprised by how many privacy related add-ons I learned about by reading the comments). As part of that discussion, OldElmerFudd commented about how Pixlr, an online image editor, has a Firefox add-on. I knew about Pixlr but I did not know it had a Firefox add-on. Well one thing let to another and while researching the Pixlr Firefox add-on I discovered Open It Online, a Firefox and Internet Explorer (and Flock) add-on/plugin that allows users to open and edit online files directly with online files editors.
Essentially instead of users downloading files to their computer and using a local, offline based editor to view and edit the files, Open It Online redirects the files to an online editor. Open It Online allows users to open and edit
Documents (*.doc, *.docx, *.rtf, *.odt, *.sxw)
Spreadsheets (*.xls, *.xlsx, *.csv, *.ods, *.sxc)
Presentations (*.ppt, *.pptx, *.pps, *.odp, *.sxi)
Images (*.jpg, *.gif, *.png)
in Google Docs, Zoho, View Docs Online, and Vuzit for documents, spreadsheets, and presentations, and Pixlr, Picnik, Snipshot, and Bilder Editieren for the images:
Firefox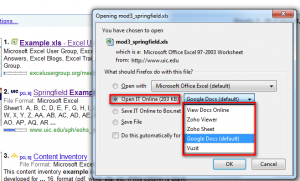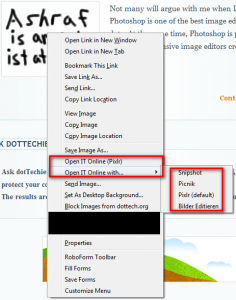 Internet Explorer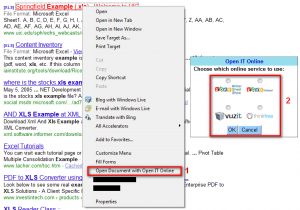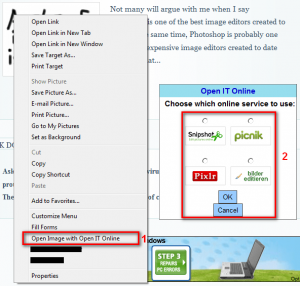 Take note of the fact that Open It Online operates a bit differently in Firefox and Internet Explorer:
In Internet Explorer, Open It Online does not support Google Docs (Firefox version does).
In Internet Explorer, you must right click on a document/spreadsheet/presentation to use Open It Online (Firefox version users don't need to right click – they can use Open It Online at the download dialog box).
The Internet Explorer version supports ThinkFree instead of View Docs Online like the Firefox version.
One drawback of Open It Online is it doesn't support PDFs; I would like this feature to be added in future version.
Nonetheless, Open It Online can be a very handy tool to keep in your arsenal. You can download Open It Online from the following links:
Version reviewed: v2.6

Supported browsers: Firefox 2 & 3, Internet Explorer 6 & 7 & 8, Flock 1 & 2

[Firefox add-on direct download]
Related Posts