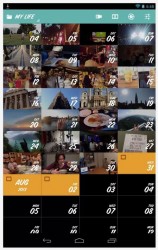 What would the end result be, if you captured a one second clip every day for a few years or longer? The concept is pretty solid, and captivating to say the least. Want to try it out? 1 Second Everyday is an Android application that is designed to serve this purpose. Sure you could do this yourself with any video capture tool, but this app stitches clips and trims all of them down automatically.
What is it and what does it do
Main Functionality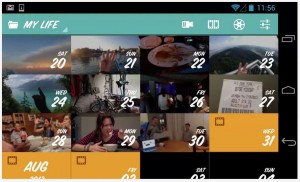 1 Second Everyday takes a pretty remarkable concept, and simplifies the process involved. You capture a daily video with the app, shorten it down to a one second clip and then store it by date. Once you've captured enough clips to put together a decent montage, the app will stitch them together for viewing. The end result is a complete look at your past life [that's been recorded], summarized by day. The app is free to try for 30 days, and then it's $0.99 for the premium version.
Pros
Inspires you to record one second clips every day, or take pictures
Compiles the clips into a single video, essentially documenting your life
Includes tool that uses push notifications to remind you to record every day (optional)
Clips and compilations can be shared to social media networks
All videos and content can be backed up through Google Drive, otherwise they are stored locally and kept private
You can setup multiple timelines, each to serve a different purpose
Cons
Requires Android 4.0 or higher
Free to use for 30 days, at which point a $0.99 upgrade is necessary (no other hidden fees or subscriptions involved)
Discussion
The idea is so remarkably simple, yet utterly brilliant at the same time. You capture one second clips every day, and then compile them in a single feed when you have a decent amount. The end result is a more complete example of your daily activities, achievements, and life experience as recorded by you. Of course, it only really works if you remember to capture the videos.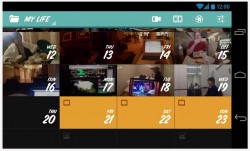 That's the beauty of 1 Second Everyday, not only does it offer the tools to get the job done it offers extra utilities to keep you in line. For example, it comes with settings to configure an optional reminder so that you don't forget to record your daily clip.
You can even keep multiple timelines or video feeds, explicitly devoted to creative endeavors. For instance, you can keep a feed for your blooming relationship, your growing child, your personal style and even project progress. Personally, since I just started a site of my own my plan is to take a video recording of traffic- that way I can look back and see what I accomplished and how things progressed.
Your videos are privately stored on your device and so are your compilations. Which means only you –and the NSA– can see them. You have the option to share clips and compilations to social networks if you desire, but it's not a requirement.
You're probably thinking the same thing I was when I first heard about this app. All of those videos may be small, but surely they will take up a lot of storage space over time? That issue has been addressed by the developers though, because you can backup your content to Google Drive by linking a Gmail account. Pure genius!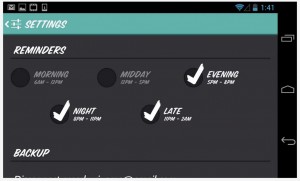 When you're ready to create a compilation of your clips, you can do it in several different ways. Since all videos are stored by date, the compilations are also created with this information. You can create a montage by year, month, or even by entering a start and end date. The app will stitch the clips together to make one complete video, and every clip has a date tag so you can watch the days progress.
The main UI displays all clips via a calendar interface, with a small thumbnail dedicated for each day. It's simple yet still quite attractive. It's also efficient too, because you can clearly see which days have a video associated with them and which days do not.
The app is free to try for 30 days, and you have complete access to all of the features. There are no dumbed down options, or silly locks demanding that you pay. However, after 30 days you will no longer be able to use the app unless you pony up the $0.99 for the paid version. Trust me when I say the $1 is well worth it. I mean seriously, that's probably less than the price of a single latte at your local coffee shop. I loved the app enough to pay for it before my 30 day trial.
Sadly, you will need a device running Android version 4.0 or higher to use 1 Second Everyday. For reference, it's relatively light on resources since it uses 20MB of RAM while running. For an app of this caliber complete with media content and video recording capabilities, that's a reasonable consumption rating.
The included video is an example of one of the developer's compilations. This is what you can accomplish with this app:
Conclusion and download link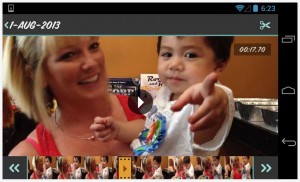 1 Second Everyday is a unique app for Android devices running Android 4.0 or higher. It's not unique in the sense that it offers something completely new and unheard of, it's unique in that it encourages you to do something a little different. With it, you record a one second video clip every day. Eventually, you can stitch a large selection of those clips together to create a personal video montage of your life.
To be completely frank, you can accomplish this using any video recording platform really, but 1 Second Everyday makes it very easy — it gives you all the tools you will need to get the job done and then some. You can set daily reminders to record your clips, share content to social outlets, and even backup your content to a linked Google Drive account. Unless you expressly tell the app otherwise, the content is stored locally and privately on your device for you and you alone [NSA joke has been omitted].
The only downside is it isn't a free app — you will have to upgrade by paying $0.99 after you use 1 Second Everyday for 30 days. Still, $0.99 isn't a lot and is definitely worth it for this app.
Price: $0.99
Version reviewed: 1.0.12
Requires: Android 4.0 and up
Download size: 8.4MB
1 Second Everyday on Play Store
Related Posts