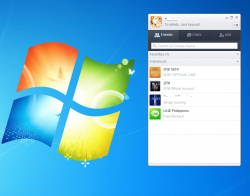 For those who are yet to try the Line app for mobile devices, you might as well check out its PC version. With the said instant messaging software, you can easily contact your friends and family as you comfortably type your messages using your computer's keyboard. It's time to find out if Line for PC has the features that you're looking for.
What Is It and What Does It Do
Main Functionality
Line for PC is a feature-filled instant messaging software from LINE Corporation. It is the PC or desktop version of Line for Mobile, which is available on major platforms of Android, iOS, Windows Phone, and Blackberry. What this software does is that it lets you extend your chats from your smartphone or tablet to your computer thus making it easier for you to send messages to your friends, especially when you're at home. Just like the mobile version, you can also use this software to send lots of cool stickers and emoticons.
Pros
Neat and well-designed user interface, easy to use, easy to install
Syncs with your Line for Mobile app – all you need to do is to log-in using the email that you've registered on your app
Sends free instant messages to your friends and contacts (who also use Line), supports group chats
You can call your friends for free (who also use Line) – VoIP calls
Allows you to communicate with anyone that has Line, regardless of what platform they are on — Windows, Mac OS X, Android, iOS, etc.
You can send stickers and emoticons; you can also send documents, videos and photos
You can minimize the program to your system tray area and if there are new messages, it will simply notify you via popup or sound notifications
Has the option for adding friends to "Favorites"
Cons
Doesn't support video calling, you can only make free VoIP calls
The QR Code user login option doesn't work
Doesn't show your current online/offline status – you won't know if any of your friends are online (and vice versa)
You can view your profile but you won't be able to view your timeline – the same goes for your friend's timeline
You must have Line for Mobile to use Line for PC
Discussion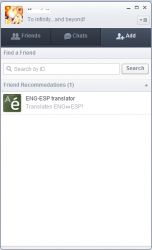 Before you start using Line for PC, you are required to download and install the app version on your mobile device first. This is because the PC version will require you to log-in using the email that you've registered on your Line app. Anyways, I find this software very easy to install and very easy to use. If you're like me who doesn't really prefer to type on touchscreen, you will definitely feel more comfortable with this software because it lets you use your PC or laptop to send messages to your Line contacts.
Another cool thing about this free instant messaging software is that it lets you send stickers and emoticons. Whatever stickers or emoticons that you have on your app will also be synced to the PC version so you're not stuck with using those traditional smilies and emojis. It also makes your conversations more exciting and enjoyable. Aside from sending free messages, you can also use this software to make free VoIP calls. This also means that your contacts must be online in order for you to make a call plus you won't be able to make any if you're not connected to the internet. The sad part is that this software does not support video calls so if you want to chat with your friends via webcam, you better use a different software or program. On the lighter side, this neatly-designed software supports group chats.
What's great about Line for PC is that it is very convenient to use because it automatically syncs your contacts. No need for you to re-add your friends. Your newly added friends will also appear on your Line app. While this software may not have all the features of its mobile counterpart, it is very reliable and it is doesn't lag. The messages, no matter how lengthy, will immediately appear on your chat box – no delays or whatsoever. Plus, you can minimize the software to the system tray area so it doesn't obstruct you especially when you're working or watching a video.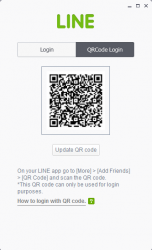 Even so, this software still has a couple of notable drawbacks such as its lack of support for video calls. Aside from that, it is also hard to determine if your contact is online or not. It only shows your contact list but it doesn't show your contact's status and vice versa. Furthermore, there's no way for you to view your own or your friend's timeline. So if you want to check the latest Line updates from your friends, you'd have to check them out using your app. There's also a problem with the log-in by QR code feature. I've tried logging in using the QR method but it failed because the app's built-in QR code reader won't recognize my Line for PC's QR code.
Conclusion and Download Link
Line for PC offers a convenient way of staying in touch with your Line-using friends and family. It's a really great software that features the basic necessities that you need for chatting and making voice calls. It's just a bummer that it does not support video chats but all in all, I feel really comfortable using this software.
That said, do I recommend it? The program itself is great but it suffers the same issue as other instant texting and VoIP apps: it useless if your friends and family don't use Line. So, my recommendation is the following. If your friends and family use Line, or you can convince them to use Line, then grab Line for PC after you grab Line for Mobile. If not, then skip out on this program.
For those of you that use Viber for Mobile, Viber has a similar Viber for Desktop program you should check out.
Price: Free
Version reviewed: 3.1.10.37
Supported OS: Windows, Mac OS X
Download size: 15.7MB
VirusTotal malware scan results: 1/43
Is it portable? No
Related Posts