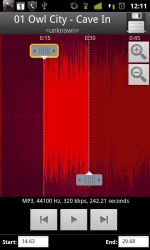 Have you ever thought of cutting or trimming your favorite audio tracks into shorter clips? This usually comes to mind especially when you want to use a catchy song as an alarm tone or notification tone. Well, speaking of which, here's a simple audio cutter tool that you can use to cut or trim your favorite songs. This app is called MP3 Cutter and Ringtone Maker.
What Is It and What Does It Do
Main Functionality
MP3 Cutter and Ringtone Maker, also known as Ringtone Editor Pro, is a simple audio cutting application that is developed by Android Tech. What this app does is that it allows you to cut or slice your audio tracks into shorter clips so that they would best fit as ringtones. This app can easily cut audio tracks in MP3, WAV, AAC and AMR formats.
Pros
Easy to use user interface
Features a responsive editor that can easily cut audio tracks – supports audio files in .mp3, .wav, .aac and .amr format
Automatically saves the trimmed track to your smartphone's SD Card directory. By default, the file will be stored to your sdcard/media/audio/music folder.
You can automatically set your trimmed audio as your device alarm tone, notification tone or ringtone. You can also save it as it is – a shorter clip of your original music file.
You are free to cut any part of the audio track. Just drag and place the markers in the waveform.
Has a jog wheel for editing tracks with a specific start/end time length
Has a built-in music player. You can play the audio track while editing.
Shows a list of all the audio tracks that you have on your mobile device
Has a quick access button for your default voice recording application
Cons
Only supports a limited number of audio file formats – cannot edit or trim tracks in .3ga, .midi, .3gp, .m4a formats
There is no option for automatically playing your trimmed audio track – if you want to listen to your edited audio track; you have to manually locate the file through your file manager
You cannot instantly send your new clips to other devices via Bluetooth or email
Discussion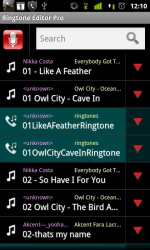 Upon installing MP3 Cutter and Ringtone Maker on your Android tablet or smartphone, you will immediately notice that its actual name differs from the name that it has on Google Play Store. So to avoid confusion, you better remember that this app is alternately called as Ringtone Editor Pro. Anyways, this is a very straightforward application that lets you cut your audio tracks into shorter clips. You're also free to set these clips as your phone or tablet's default alarm tone, ringtone or notification tone.
When using this app, you need to keep in mind that it does not support .3ga and .midi files. So you might need to find a separate app that could convert these files to .mp3 or.wav, because .mp3 and .wav are what are supported by this app. Nonetheless, the process for editing your audio tracks is very easy. Since the app will automatically show a list of all the songs and audio files that you have on your device, you simply select a song that you want to trim or cut. After that, the app will load the song to its "music cutter". You're then free to set the start time and end time of your audio clip by dragging the controls in the waveform window. If you already have a specific start/end time in mind, you can simply type the said values in the text boxes.
Once you've finished creating a new clip, the app will then ask you if you would like to rename your file. It will also ask if you want to set your new clip as your default ringtone, etc. As for those who wish to cut or edit a freshly recorded clip, you can make use of the app's built-in audio recorder. You simply press its record button, which is located at the top-left area of the app's home screen, and then you save and search the new clip on the app's list. It's also a good thing to know that the app has a provided a quick search tool for easy file searching.
While this app does have a lot of good features, it also has a couple of drawbacks. First, you cannot play your newly trimmed clips without opening the file via file manager. Second, there's no option for instantly sending your new clips to other devices via Bluetooth or e-mail. While these drawbacks may not fully affect the app's functionality, this app still needs to be polished so that it will be able to give its users a better performance.
Conclusion and Download Link
I like this app. MP3 Cutter and Ringtone Maker can trim or cut a variety of audio tracks with ease — it does what it says it does and it doesn't go beyond what it is supposed to do. I definitely recommend this app for those that need or want such functionality. Just keep in mind this app is just a simple audio cutter tool which is great for everyday use, but don't expect this app to be feature-filled like Audacity or Wavosaur.
Price: Free
Version reviewed: 1.6
Requires: Android 2.0 and up
Download size: 465KB
MP3 Cutter and Ringtone Maker on Play Store
Related Posts