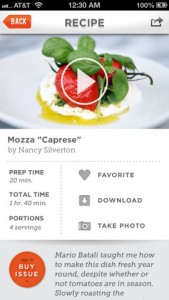 I've heard Gordon Ramsay say that diners "eat first with their eyes." Part of the reason that food blogs have gotten so big in recent years is because it is a way to get our appetites going before we actually have a meal. If you're a foodie or an aspiring chef, it's always nice to get culinary inspiration from both images and taste. If you're looking for an attractive source of dining inspiration, the app/magazine Panna is definitely gonna get your mouth watering.
What is it and what does it do
Main Functionality
Panna is a food and cooking app/magazine. Featuring videos and recipes, this app includes food ideas from luminaries of the culinary world who instruct subscribers on how to prepare some seriously impressive dishes.
Pros
You can get one free recipe in each issue, even if you're not a subscriber
Each issue includes over two hours of video content
Browse recipes by ingredient or by chef
App features the gifted touches of chefs like Rick Bayless, Anita Lo, Nancy Silverton, and Jonathan Waxman.
iPad version has shopping list tab, which is quite handy
Easily "scrub" within videos to repeat a complicated step
Cons
Subscription or individual issue purchase is required to get the full benefit
Long wait between new issues
Discussion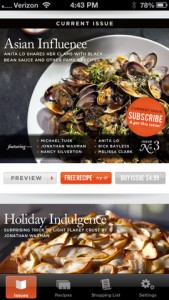 For all the food apps on the App Store, there are a surprisingly small number of apps that look mouthwatering. Panna is definitely one of them. Between the luscious photography and the elegant design, this video magazine is both appetizing and inspiring.
Packed with recipes and videos from celebrity chefs and cooking icons, Panna makes it easy to find a recipe that perfectly suits your mood and needs. You can search by ingredient, or by chef. You can also browse categories like Classic, Cooking for Company, Master Class, or Weeknight Supper.
This app offers six new issues a year, and each issue has about a dozen new recipes. That doesn't seem like a lot, but the videos are very high-quality. This as much as teaching app as it is a menu planner. There are great question and answer sections that give you good advice about finding ingredients.
This app features both simple and more complex recipes, making it really perfect for home cooks who have some kitchen experience, but want to cook more like a real chef. There are some real show-stoppers here, and this app is fun to browse on the couch or use while cooking.
Conclusion and download link
With fall harvest time just around the corner, and Thanksgiving coming up in a few months, now might be a good time to start honing your culinary skills. With the great techniques and cooking ideas you'll get from this app, you can impress your family and friends. If you've seen these chefs on TV shows like "Top Chef: Masters" and wished you could learn from them, this app is like a classroom and a kitchen all in one.
Price: Free (Subscription cost is $14.99)
Version reviewed: 2.3
Supported OS: Requires iOS 6.0 or later

Download size: 10.1 MB
Related Posts