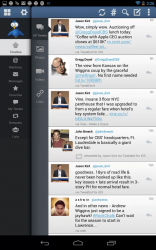 There may be a lot of social media management apps in the market but not all of them are safe and reliable. As for those who are managing multiple Twitter accounts, you might as well find a reliable app that has all the features that you are looking for. Speaking of which, TweetCaster for Android has a rich lineup of features that you cannot easily find anywhere else.
What Is It and What Does It Do
Main Functionality
TweetCaster is a simple yet very reliable Twitter management tool that is created and developed by OneLouder Apps. Unlike the official Twitter app, this tool is rich with features that are meant to improve your overall tweeting experience. With this tool, you can easily manage all of your Twitter accounts. You can even schedule your tweets at a later date or time.
Pros
Well-designed and customizable user interface, easy to use
Features 12 colorful themes – Purple Sage, Green Grass, Orange Crush, etc.
Supports multiple Twitter accounts – you can also post your tweets directly to your Facebook account
If your tweet goes beyond the 140-character limit, you can post it with Twitlonger or you can opt to divide it into multiple tweets
You can attach media files to your tweets – photos, videos and even links
You can edit your photos using cool photo effects and filters (plugin required)
Filters your search results – you can even search your own timeline or someone else's Twitter profile. You can also search for tweets from nearby users.
Supports push notifications – you get notified for new tweets, retweets, DMs, mentions
You get to see what's trending on Twitter – Worldwide or by specific location
You can share any tweet to other social networking sites or SNS services such as Viber or Line
You can "Zip" any annoying tweets to prevent them from appearing on your timeline
You can add any link that is included in a tweet to "Read Later" – this allows you to read the content of that link at a later time via Pocket, Readability or Instapaper
Features a cool "Shake to refresh" function – just shake your phone to refresh your Twitter timeline
Allows you to schedule your tweets at a later date or time
Cons
You cannot delete multiple tweets – the same goes from @mentions and direct messages
The photo editing feature won't work unless you install a separate plugin
There is no option for "Show Photos & Videos" – you cannot view all of the photos and videos that were uploaded by a Twitter user
Discussion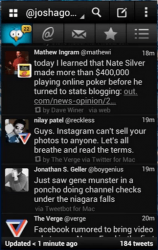 TweetCaster is a really good app especially for avid Twitter users. It offers a lot of features that you cannot usually find on other apps. Furthermore, this app also features a variety of colorful and trendy themes so it will certainly match your style. It is also very easy to use and you can customize its settings according to your own preferences. You can change the font size, the date format, the title name display, etc. You can even set a specific color for tweets and mentions. In other words, this app has a lot of features and options that are worth to explore.
Functionality wise, this app certainly does what it's supposed to do and it even allows you to do more than what you can do with the official Twitter for mobile app. It basically lets you do the following:
Manage your multiple Twitter accounts
Follow or unfollow other users
Add other users to your private/public lists
Simultaneously post your tweets to your Twitter and Facebook accounts
Schedule your tweets for later
Create or reply to @mentions and direct messages
Posts retweets and view tweet replies
Upload and edit photos, upload and share videos
Search for a tweet via keyword or hashtag
Search for Twitter users nearby (Note: This feature won't work unless you turn your GPS on)
Customize your TweetCaster UI with different themes
View and edit your Twitter profile, view other user's profile
and a whole lot more…
So far, I have no major concerns regarding this app except for the fact that there is no option for deleting multiple tweets, @mentions and direct messages. I also couldn't see any option for showing all of the media files that were uploaded by a particular Twitter user. The app's advanced search tool only works for hashtags and keywords. In addition, the app's photo editing feature requires an additional plugin. Without this plugin, you won't be able to add cool effects to your photos.
What I like most about this app is that it loads smoothly, it has no glitches and it doesn't crash. Plus, the tweets are being loaded in real-time and the app will automatically refresh your timeline. I also like the fact that this app lets you post to multiple Twitter accounts at the same time. You can even schedule your tweets and it's totally okay even if you go beyond the specified character limit. Another good feature of the app is its ability to "Zip" tweets. With this feature, you can prevent or hide any tweet from showing into your timeline so there's no need to unfollow that user.
All in all, this app has a lot of good features that's definitely worth to try. It may have some minor drawbacks but those aren't enough to downgrade the app's overall performance. There's also no need for you to purchase the Pro version just to unlock a certain feature. The free version is good enough but if you really want to go ad-free, you can always opt to upgrade to TweetCaster Pro for $4.99.
Conclusion and Download Link
If I were to choose between the official Twitter app and TweetCaster, I would go for the latter because it has the features that make my tweeting tasks a whole lot easier. It is, by far, one of the best Twitter clients in the market. It's great for avid Twitter users, especially to those who are using more than one Twitter account. Check it out
Price: Free – can be upgraded to TweetCaster Pro for $4.99
Version reviewed: 7.6
Requires: Android 2.0 and up
Download size: 5.0MB
TweetCaster for Twitter on Play Store
Related Posts