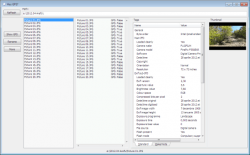 There are times wherein you would actually need to get some important information out of your photos. It could be for the simple reason that you've forgotten where that particular photo was taken or it could be something that is related to a more serious matter. Nonetheless, what you need is a reliable tool or program that could tell you the exact details of your photos. Let's find out if Has GPS can actually do the work.
What Is It and What Does It Do
Main Functionality
Has GPS (or Has GPS?) is a free software for Windows that is designed to analyze your photos. It is created and developed by CubicDesign. What this software actually does is that it allows you to check if your photo has an embedded GPS data and other important details such as the camera model used to take the photo, the camera resolution, date, time, etc.
Pros
Simple, very easy to use
No installation required – just download the application and run it on your computer
You can analyze if your photos has GPS data in just one click of a button
It shows other important details that you do not normally see when checking your photo's properties using Windows Photo Viewer – GPS longitude, GPS latitude, GPS altitude, GPS version, Scene Type, Exif sub-IFD, etc.
You can rename all of your photos with GPS data in just one click
Cons
You have to enter the file path or file location manually
You cannot refresh or clear your entries
There are times wherein the software won't recognize if the photo has GPS data
You cannot rename photos with GPS data separately
There is no option for removing photo properties and personal information
Discussion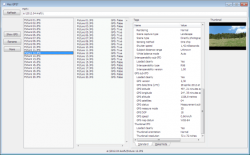 Has GPS is very easy to use. It is also a very light software that doesn't take too much space in your computer. There is also no need for you to install this program. Just download its executable file, run it on your computer and you are all set to view your photo's important details.
To use this software, you need to find the exact location of your photos first. This tool does not have any option for browsing files or folders so everything should be done manually. This means that if your photos are located in C:\Users\Me\Photos then you need to copy and paste the entire file path on the software's "Path" field. After this, the photos will be automatically loaded and the next thing that you need to do is to press the button for "Show GPS". This will command the software to check and analyze all of the photos in that specific file path. It will then give you a list that shows whether your photos have embedded GPS data or not.
Usually, if a photo has embedded GPS data, the result would be Filename – GPS: True. If it doesn't have any GPS data, it will show a format like Filename – GPS: False. Still, even if a photo doesn't have embedded GPS details, you will still be able to view the rest of its important information such as the camera model used to take the photo, the date and time that the photo was taken, the photo resolution, maker's notes, main IFD, Exif sub-IFD, Interoperability sub-IFD and Thumbnail IFD.
I think this software is decent but there are times where it fails to detect if a photo actually has an embedded GPS data. I tested this software a couple of times and it basically gave me some "hit and miss" results. Some photos were analysed correctly but there are also those that were not given the proper details. Like for example, I intentionally took a couple of shots with embedded GPS and yet the software still showed the GPS: False label but when I looked at its detailed list of metadata, the software actually showed the photo's location and exact GPS coordinates.
All in all, I could say that Has GPS does its job but you couldn't really say that it is already good enough. It still needs more improvement and perhaps in its future versions, we could finally make use of its improved functions.
Conclusion and Download Link
Has GPS does what is supposed to do. It shows a photo's GPS coordinates and other important details but it still lacks in many aspects. For now, I wouldn't recommend it but I would definitely keep track of its progress just to see if its features have actually improved or not. If you want a more reliable photo analysis software, I suggest that you try GeoSetter.
Price: Free
Version reviewed: 1.0
Supported OS: Windows XP, Windows Vista, Windows 7, Windows 8
Download size: 2.03MB
VirusTotal malware scan results: 0/46
Is it portable? Yes
Related Posts