Last week, I got a sad email from Jiho Kang, one of the developers behind Wander. Longtime readers may recall that I reviewed Wander in January. It was a really fun virtual penpal app/travel guide app, and it was really cool. Sadly, Jiho informed me, Wander shut down for good last week.
But there's a silver lining for Wander fans: Kang has a new app out called Planett. In his email to me, Jiho described Planett as "a new project that hopes to carry the spirit of Wander." Obviously, I just had to check it out!
What is it and what does it do
Main Functionality
Somewhat similar to Wander, Planett is a social networking app that's mission-driven. By completing various missions, you can unlock photo responses to that same mission from people around the world. At it's core, Planett is an app that aims to help users see other parts of the world, while also sharing what is great about their home town or city with people who live on the other side of the globe.
Pros
Great interface
Great way to make international friends, or stay in touch with friends who live abroad
Mission-oriented style makes you take a second look at the world around you
Upload new photos or something from your camera roll
Share your photos on Facebook or Twitter as well
Intuitive controls
Cons
App did crash three times during testing, all while trying to access settings
Doesn't appear to be a way to filter your "explore" settings to include/exclude certain countries, continents, or cities by population size
Discussion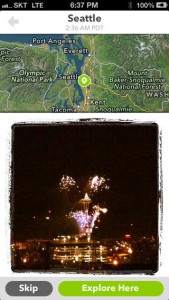 When you start up Planett for the first time and hit "start exploring," the global map will zero in on a randomly chosen city. You can either start exploring the city and viewing people's photo updates, or you can hit "skip" and move on to another city, selected at random.
You do need an account to use Planett, but you can auto-fill your details using Facebook. I like that the account is called a "Planett Passport." That faux-passport feel really reinforces the globetrotting feel of this app.
There's a great give and take in Planett, something that Wander was never really quite able to master and enforce, because you would sometimes get paired with a Wander partner who wasn't responsive.
In Planett, you have to complete missions in order to see responses to the same mission from other users. Missions include "the view from where I'm standing," "my favorite thing to drink," "public art," "something I would show a tourist visiting my town," and other things of that ilk.
I do wish there was a way to filter your "explore" settings, allowing you to focus on a certain country, or exclude cities under a certain size. Overall, however, I like the randomness of it: this app feels like real exploring!
Conclusion and download link
Planett is a worthy successor to Wander. If you loved Wander, you'll love Planett even more. If you like travel or social networking apps, this is one you have got to try!
Price: Free
Version reviewed: 2.0.1
Supported OS: Requires iOS 6.0 or later.

Download size: 8.0 MB
Planett on Apple App Store
Related Posts