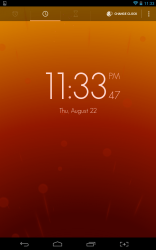 One of the most efficient ways to use your smartphone or tablet is to set up an alarm clock for various events. It's even a great feature to have when you need to wake up early in the morning so that you can start your day off right. The stock alarm clock app is suitable for most, but compared to third party alternatives it can leave a little to be desired in the way of features. Timely is a remarkably beautiful alarm clock app for Android, which includes several sophisticated enhancements over the stock app. Of course, since alarm clock apps are a dime a dozen in Google Play, there are also some notable features which help it stand out.
What is it and what does it do
Main Functionality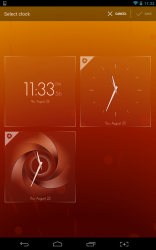 Timely is an elegant alarm clock app for Android that not only offers a sophisticated style but features as well. One of the most interesting features is cloud synch support so that you can access your settings from any Android device. Most welcome perhaps, is the fact that it's been designed from the ground up for tablets.
Pros
Elegant and very attractive alarm clock app, with beautiful animations
Several themes, colors, clocks and customization options to choose from
Includes an alarm clock, standard clock, timer, and stopwatch
All functions are very easy to use and setup
Also includes support for widgets, the DashClock extension, and physical volume button snooze controls
Uses nearly 39MB of RAM while running
Cons
The free version is only ad free for five days, at which points the ads begin showing
Cloud synch, additional themes and clock designs, and more in the pro version ($2.99)
Discussion
The very first thing you'll notice about Timely after starting it up is that it's incredibly beautiful.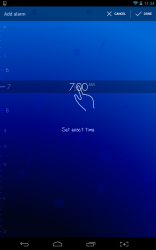 It's functional too, and it closely resembles the stock Android app. The background is slightly animated, right along with the number cards. Even though it uses a minimal design, there's something very extraordinary about it. The stock theme includes bubbles which float around in the background every so often. At any time you can change the theme and customize the appearance to your liking. Changing the theme involves choose a background type or animation, and then selecting a color. The color palettes available are incredibly robust. Don't worry, Timely definitely includes your favorite color whatever it may be.
In addition, you can also change the clock appearance from three different types including a digital face, traditional timepiece and a concept design.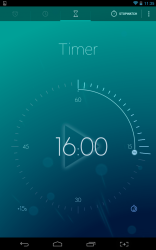 The default screen -which is the standard clock- is centered. Swiping from left to right will bring you to the alarm clock function, while swiping in the opposite direction will bring you to the timer/stopwatch. The timer page is an egg timer of sorts, but can be changed to a stopwatch with the simple tap of a dialogue button.
Every function in the app is incredibly simple to use. To add an alarm you just swipe from left to right on the respective screen, and then slide a banner to the correct time. To set a timer, you just slide your finger in a circle around the clock outline until you've reached the amount of time you want it set to. The stopwatch on the other hand just involves tapping the screen to start the clock. To be perfectly honest, the description is a lot more complicated than using any of the functions. Hopefully, you can get an accurate grasp on how easy it is to use.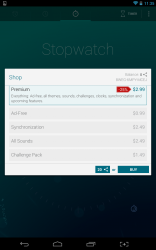 Timely is ad free for five days, after which they begin to show up unless you purchase the pro version for $2.99. The cloud sync support is offered in the free version for the trial period after which you can purchase it separately for $2.49. You can also separately purchase a sound pack, theme pack, custom theme support, more clock faces, and just plain remove ads. Of course, if you purchase the pro version you get all of those features, so from a cost perspective that's the smart and frugal option.
Timely also includes widget support, compatibility with the DashClock extension, and the option to snooze alarms with the physical volume buttons.
Because this is an app that will be running continuously when in use, it's worthy to note that it uses nearly 39MB of RAM. Considering the advanced animation support, that's not too shabby.
Conclusion and download link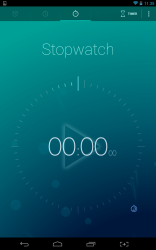 Timely is a beautiful alarm clock for Android. The most prominent features include the customization options, and the appealing animations. Of course, it's also quite functional with a working timer, stopwatch, and alarm clock. It even includes widget support, DashClock compatibility and more. The free version is only ad free for five days, and the cloud synch support is only available in the pro version. That being said, the pro version only costs $2.99 and it comes with extra themes, clocks, custom theme support and even various sound effects.
Surely, something this advanced would only consume a great deal of system resources, right? That's the kicker, Timely only uses about 39MB of RAM while running which is pretty light for an app of this caliber.
Price: Free, $2.99 (pro), $0.99 (no ads), additional payment options
Version reviewed: 1.0.2
Requires: 4.0.3 and up
Download size: 9.2MB
Related Posts