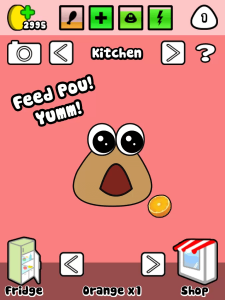 Have you ever thought of having a virtual pet? It might not be something that you can actually feed or cuddle but it will definitely keep your mind preoccupied with something that is enjoyable. As for those who think that cats and dogs are too ordinary, you might as well consider having a virtual alien pet like Pou.
What Is It and What Does It Do
Main Functionality
What is Pou like? Well, it's obviously a creature that you cannot find in the real world. It's an alien but there's no need for you to worry. It is so cute and adorable that you would eventually be enthralled by its unique charm. Since it's a virtual pet, do expect it to live in your tablet or smartphone. Your role is to take good care of it until it becomes old enough to go back to where it originally came from. Be warned though. This adorable virtual pet likes to eat and play so you need to frequently monitor its health and energy levels.
Pros
Simple UI with colorful graphics, lots of in-game commands and controls
Easy to play, fun and enjoyable
There are a lot of things that you can do with your virtual alien pet – feeding, bathing, playing games, gardening and a whole lot more.
You can customize your pet's name and appearance according to your own preferences. You can also change its body color, outfit, eye color, eyelashes, moustache, etc.
Offers a wide variety of items that you can purchase to make it grow healthy and contented – food, wallpapers, health potions, bath soaps, lamps, balls, hats, wigs, etc.
You earn coins for doing certain tasks such as feeding your virtual pet for the first time
Your pet won't grow in an instant. Therefore, you need to wait until it becomes an adult. This makes the game more fun because you get to see how your pet will evolve.
You can visit and play with your friends – those who also owns a virtual pet like Pou
You can talk to Pou and it will talk back
Screenshots – take a screenshot of your virtual pet and boast it to your friends on Line, Facebook, Twitter, etc.
Cons
The game's graphics quality is just average
The "talk to Pou" feature occasionally fails to function
Needs a rich storyline that will make it more engaging and mysterious at the same time
The bedroom and the hall area needs more furniture and other cool items
Discussion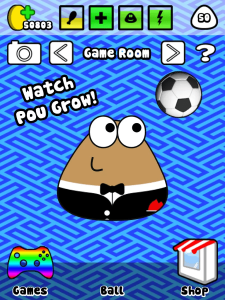 Pou is a virtual pet game that is created and developed by Zakeh. In this game, you will be playing the role of a pet owner or master who needs to take care of a cute virtual alien pet. Your alien pet is a Pou and it is still very young so you need to feed it constantly and whenever it gets sick, you need to heal it using a health potion. Of course, there are a lot of things that you need to do just to make sure that it will grow into a healthy alien that is well-behaved and lovable. Some of these things are as follows:
Feed it with delicious and healthy foods
Bath it when its dirty (you also need to clean its poo)
Take care of it when its sick
Make it happy by playing a variety of exciting games such as Food Drop, Sky Jump, Color Match, etc.
Make it sleep – it needs rest to refill its energy meter
Take it outside and play with it in the Playground
Water its flowers in the garden
What makes this game different from other virtual pet games is its wide range of exciting activities. Thus, you don't have to solely focus on those repetitive activities such as feeding, bathing, cleaning, etc. With this game, there are a lot of things that you can do and you can even customize your virtual pet's nickname and appearance. You get to dress it up according to how you want it to be. You can also buy a lot of extra stuffs such as hats, stickers, flowers, outfits, etc.
Gameplay wise, this game is very easy to play. There is no need for you to recall a lot of complex commands or controls. So if you have already played a similar game like Furdiburb or Tamagotchi, then you won't be having a difficult time playing this game. In addition, Pou also features a very interesting achievement system wherein you get rewarded for every particular task that you do. For example, by feeding for the first time, you will get a reward of 50 coins. You will need these coins to purchase food, health potions and other items. You will also get more coins by letting your pet play in the Game Room.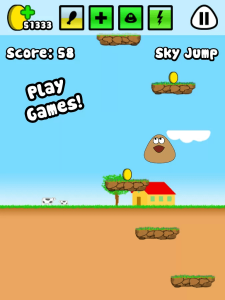 All in all, this game is very exciting and addictive. I think that it would become even better if it features a story that will revolve around your adorable pet alien. Furthermore, its graphics and art style needs a lot of improvement. It doesn't look ugly but for some reason, the character itself as well as the background looks too plain. I am also having a difficult time making it talk back right after I speak to the microphone. It seems that the game's microphone tool doesn't work properly. It would also be great if this game has more bedroom and hallway items.
Conclusion and Download Link
Pou is a fun and additive game that is great for kids and even to those who simply likes to own a virtual pet. It is packed with lots of interesting features and it will definitely challenge you to try your best as you fulfill your role as a virtual pet owner. It may not have the best graphics and art style but once you start playing it, you will eventually become more attached to your cute pet. I recommend that you try this game together with Furdiburb. Why? Simply because they are both aliens and they both need a loving and responsible master.
Price: Free
Version reviewed: 1.3.20
Requires: Android 1.6 and up
Download size: 15MB
Related Posts