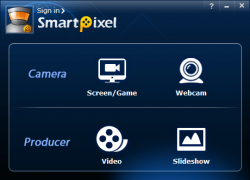 Is there something you want to record on your screen, like a video, movie, TV, or what not? Then you need a screen recording program. dotTech has a review of best free screen recording program for Windows but if you aren't happy with our selections, SmartPixel is another option. Let's see if it is worth your time.
What is it and what does it do
Main Functionality
SmartPixel is a screen recording + basic video editor in one. It has two modules, SmartPixel Camera (screen recorder) and SmartPixel Producer (basic video editor).
Take note SmartPixel comes in two versions, Free and VIP. Free is $0 (free) and VIP costs $15.9 per six months for both Camera and Producer modules (you can purchase a subscription to only one of the modules, if you wish). There are no feature differences between Free and VIP except that Free places watermarks on outputs and can only record a video of up to ten minutes. VIP has no watermarks and has no time limit on videos.
Pros
Records anything and everything on your screen
Is able to record any sound you normally would hear from your speakers, and you have option of recording sound from your mic
Can record webcam
Can overly webcam while recording screen, meaning you can record screen and webcam at the same time
Has a basic video editor built-in that allows you to cut, add subtitles (your own subtitles, not load in subtitles from elsewhere), background music/sound (MP3, WMA, RM, OGG, FLAC, WAV), dubbing, effects (over 50 text, filter, scene, frame, and bubble effects), or speed up or slow down playback (0.4x to 10x)
Can adjust color of webcam recording (whiten, warm, exotic, fresh, violet, natural, rose, jelly, hi-bright, hi-contrast, saturated, sharp, and mono-color)
Supports FLV, AVI, MP4, and animated GIF output
Allows you to pick between 15 fps, 20 fps, and 30 fps recording
You can chose if you want to include mouse cursor in videos or not
Excellent on-screen help
Supports hotkey
Great interface and easy to use
Cons
Video recording control panel is recorded in videos
Wants to install directly into C:\SmartPixel instead of C:\Program Files\SmartPixel
Cannot highlight mouse cursor or clicks
Automatically kills videos less than 10 seconds in length; there is no option to disable this behavior
Limits you to a max video size of 960×720
For some odd reason, is a bit slow in opening Producer module
Ran into one bug
Using a subscription model for a video recorder (e.g. $15.9 for 6 months of VIP) is dumb
Discussion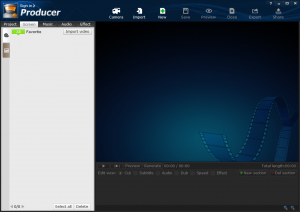 SmartPixel is a screen recording program. It allows you to record anything and everything that you see on your screen, and it has the ability to record your webcam too. In fact, it can even record your screen and webcam at the same time (webcam is overlayed your screen, in a corner). While recording your screen and/or webcam, SmartPixel has the ability to record audio — it will record anything you would normally hear from your speakers plus you have the option to making it record your own voice via your microphone. In other words, you can basically use SmartPixel to record online videos, movies, and TV shows, to create tutorials, etc.
Aside from screen recording, SmartPixel has a built-in video editor. This video editor is basic, so don't expect it to allow you to be the next James Cameron. However, it does allow you to cut videos, add subtitles, add background music/sound, add dubbing (i.e. record from your mic), add effects, and speed up (up to 10x) or slow down (up to 0.4x) video playback.
When ready, you can output videos as FLV, AVI, MP4 (with profiles optimized for regular MP4, iPhone, and PSP), animated GIF, and WPC. AVI and MP4 have a maximum output resolution of 960×720 while FLV and WPC can be outputted "at original resolution". However, as per my tests, if you go into SmartPixel video recording settings you will see it records at a maximum of 960×720, so FLV and WPC can be a max of 960×720, too. Animated GIF's maximum resolution is 320×240.
I can understand limiting the resolution of animated GIFs, because larger animated GIFs can be very large in size. However, limiting the resolution of videos? That is essentially a deal-breaker for many people, ensuring you won't be able to record high-resolution videos.
One thing I noticed off the bat with SmartPixel is its beautiful interface and excellent on-screen help. Not only did the developer put a lot of thought into creating an aesthetically pleasing interface, but they also had the foresight to provide users with directions as to what each button/object does. Excellent!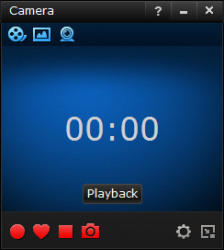 That said, be careful while recording. If you record full screen or record an area that includes the video recording control panel (the small window that houses the recording controls), the video recording control panel is included in videos. The developer of SmartPixel apparently didn't realize the importance of programming it so the video recording control panel is not captured.
Similarly, I'm not sure why the developer thought it would be a good idea to not allow users to shoot videos of ten seconds or less. If you try to capture a video of ten seconds or less, SmartPixel will automatically delete the video. Apparently the idea here a video of ten seconds or less is a mistake but that doesn't necessarily hold true in all situations. It is definitely possible that someone may want to shoot a video of ten seconds or less, and they cannot do that with SmartPixel.
Finally, I would like to point out one bug I ran into with SmartPixel. You see when you use the video recording control panel to record a video and finish recording a video, you are asked by SmartPixel if you want to now edit the video in the Producer module. For some reason, you are not prompted by this message sometimes. I'm not sure why this is, and it isn't a major bug, but it is worth mentioning.
Conclusion and download link
I was presently impressed by SmartPixel. I was expecting it to be another pathetic attempt by a developer to make some quick bucks by producing a subpar video recording program. Instead, SmartPixel is an excellent video recorder with built-in video editing capabilities. However, I don't recommend it… yet. The program is relatively new and still rough around the edge. For example, the video recording control panel is included in videos, if it is in your recording area (e.g. such as when you record full screen); plus limiting videos to a maximum resolution of 960×720 is a deal-breaker. I suggest keeping your eye on this one but, for now, use other screen recorders. See dotTech's review of best free screen recording program for Windows to learn more about excellent free screen recorders.
Price: $15.9 for 6 months subscription

Version reviewed: 1.1
Supported OS: Windows 8/7/Vista/XP
Download size: 28 MB

VirusTotal malware scan results: 1/44

Is it portable? No

Related Posts