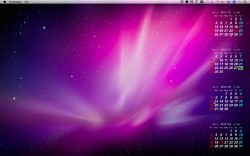 The types of apps I want for my phone are almost always quite different from the types of apps I want on my desktop. When I'm looking at calendar apps for my Mac, I want something that is large, multi-month, and easy to take in at a glance…but still makes a good use of the large screen size of my monitor. Oh, and if I can get all of that for free, so much the better. So when I stumbled across the calendar app CrisCalen for Mac, I decided I would give it a spin.
What is it and what does it do
Main Functionality
CrisCalen is a Mac App that provides you with a monthly calendar view. You can set the app up to view one month at a time, or up to five months, making this a great quick reference for looking up which days of the week will fall on which days of the upcoming month.
Pros
Syncs with iCal and Google Calendars
Boasts you choice of transparent background or background with a theme/image
Start calendar on any day of the week
Boasts Japanese and English calendar settings
Adjust font size and font color to your preferences
Set the calendar to always be on top, or drag to your favorite area of the screen for easy reference
Cons
Background image themes are limited and kind of cartoony
Some users have complained about bugs
Not the most user-friendly calendar app
While there are many customization options, there are some glaring missed opportunities for customization, such as custom colors for holidays
Not ideal for users who are looking to host their entire schedule, due to the small calendar window size
Has not been updated since the winter of 2012
Discussion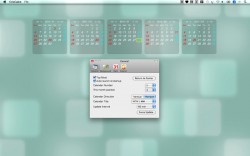 CrisCalen hit me with an overwhelming feeling of "meh" when I downloaded it and started setting it up. There's just something very clunky about the way the app looks, and the way it feels when you are setting it up.
It's not a bad app, but it doesn't really grab me, either. In a sea of calendar apps, CrisCalen does very little to stand out and make itself memorable.
That being said, there are some good features. The themes weren't my cup of tea, but they might be yours. I also like that you could make certain days of the week different colors (though why I couldn't set a color-coded style for holidays is beyond me.)
CrisCalen is solid and sturdy, but not terribly flashy or intuitive. It feels like the kind of app my mom or grandma might use.
Conclusion and download link
CrisCalen isn't really my cup of tea. I wanted a more robust calendar that was a little more user-friendly and a lot more slick-looking. I could see this being the calendar app of choice for a receptionist or appointment setter, but many busy professionals would probably turn their nose up at this app due to design and functionality concerns. It's a free app, but it doesn't do much for me. It's not an app I'd recommend, but not one I'd caution fervently against downloading, either.
Price: Free
Version reviewed: 1.2
Supported OS: OS X 10.6 or later

Download size: 2.2 MB
Related Posts