Are you a fan of the KDE desktop environment for Linux? Are you running Ubuntu and wish you could get the latest release, but you're tired of waiting for it to hit the main Ubuntu repositories? This how-to will show you exactly how you can get the latest KDE software compilation right away!
BEFORE WE BEGIN
The purpose of this guide is to show you exactly how to install the latest version of the KDE Software compilation for Ubuntu Linux 13.04. This guide will cover KDE 4.11 software compilation, but as this software is being installed by using a software repository (a server that holds software sources for your Linux Distribution), this guide applies for all future versions of KDE. Plus, you will get KDE updates after installation, as long as you have this software repository enabled on your PC. In Ubuntu Linux, these software repositories are known as PPAs.
Although we wrote this guide specifically for Ubuntu 13.04, it should work on later versions of Ubuntu as well.
HOW TO INSTALL LATEST KDE SOFTWARE COMPILATION ON UBUNTU 13.04
First we need to enable the software PPA on your PC. You will need to do this using the terminal. If you're using Unity, open up the dash (by pressing the windows key) and search for 'Terminal'. It should show up and you'll be able to click on it to launch it. If you're on any other desktop environment, simply press ctrl + shift + t and a terminal will appear.
To enable this software repository on your Ubuntu-powered PC, you'll need to enter some simple terminal commands. Don't be afraid, this is not as hard as you think.
In the terminal window enter this command. The command below (when entered correctly) will enable the software repository in which the more up-to-date version of the KDE Software Compilation is located. We do this because Canonical (owner/maintainers of Ubuntu) do not put out updates as frequently as people would like them to.

sudo add-apt-repository ppa:kubuntu-ppa/backports

Once you have entered this command (it will ask you for your password), you will see a message appear in your terminal. It should say something like this:
You are about to add the following PPA to your system:

Backports of new versions of KDE and major KDE apps for Kubuntu which are either too large a change or not yet tested enough to go to Ubuntu Backports

More info: https://launchpad.net/-kubuntu-ppa/+archive/backports

Press [ENTER] to continue or ctrl-c to cancel adding it
The second thing we need to do is to update your software sources. By updating your software sources you check for any updates you may be in need of, and Ubuntu will refresh its software list and see your newly-added PPA. You can update your software sources by entering the command below.

The third thing we need to do is to install the software. This is the last terminal command we'll be entering. This command (when entered correctly) will tell Ubuntu to install a complete KDE desktop. This includes everything from KDE itself, to all of the KDE apps that come with it. You can do this by entering the command below in your terminal.

sudo apt-get install kubuntu-desktop
Be Warned: This may take a little bit. While KDE 4.11 is being downloaded you might want to get up and take a short walk.
Lastly, we need to  to log out of our current session. Once you've logged out of your current session on Ubuntu, you need to find the option (on the logout screen) that says sessions. Click the Ubuntu logo on the right of your user name. This will allow you to chose from different desktop environments (Unity, KDE, Gnome Shell and etc). Select the option that says KDE Plasma Workspace, move your mouse over to the arrow pointing to the left and click it to return to the user login area.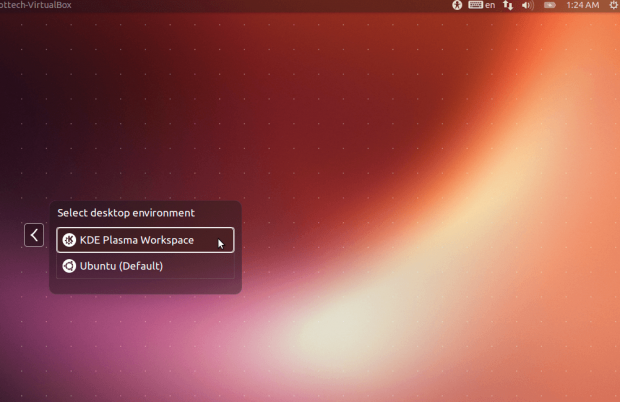 Enter your password, once you have your password entered, press the enter key, and wait for KDE 4.11 to log in.
CONCLUSION
Sometimes getting up to date software on Ubuntu is tough, since it is not a 'bleeding edge' distribution. Luckily, with this guide you've learned how PPAs work, and are now able to enjoy the latest, most newest version of KDE! Using your new-found knowledge, you can now install just about anything from a PPA. Enjoy!
Related Posts