Everything I know about "burner" cell phones comes from seeing them used by drug dealers or criminals in popular films. And yet, despite their unsavory reputation, a "burner" number is actually something that can benefit many law-abiding citizens. If you need to share your phone number, but want to protect your identity, an app like Burner can help you by providing disposable phone numbers.
What is it and what does it do
Main Functionality
Burner provides disposable phone numbers, providing an extra layer of protection when you are communicating with people. If you are selling something on Craigslist, posting a personals ad, communicating with work colleagues, or just want to keep your personal information private, this app might appeal to you.
Pros
Excellent interface
Great for protecting your privacy
Earn free credits when you invite your friends to sign up
No limit on how many burners you can have or how long they can be in use
Use burner numbers to receive or send both calls and texts
Also includes voicemail!
Access your contacts
Cons
Push notifications must be turned on in order to get texts and missed calls
Operates on a paid "credit" system
Only works for US and Canadian numbers…for now
Only available for iPhone, not for iPad or iPod Touch
Will still use up minutes on your plan
Burner numbers cannot be recovered once "burned"
Burner can be used for texts, but not for multimedia text messages
Discussion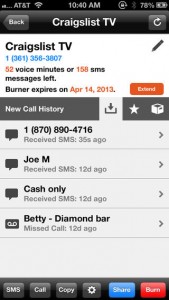 Burner is a really great one-stop shop for anyone who wants to keep their true phone number a secret. This app would be of use to people who frequently buy or sell stuff on sites like Craigslist, or people who want to avoid sharing their phone numbers online (so as to avoid spam texts or sales calls.)
There's a ton of flexibility in terms of getting your number and keeping it (though you should note that not all area codes have available burner numbers for you to use.) That being said, Burner isn't entirely free to use. Your first sample burner numbers lasts for one day (or until you get 5 voicemails and/or 15 text messages.) There are a number of burner options you can use after that, costing anywhere from 3 to 10 credits.
The credit-based system does require you to pony up some dough (unless you have a ton of people you can refer to the service and get free credits.) 3 credits will cost $1.99, while 25 credits costs $11.99. To put those credit costs into perspective, 8 credits is enough to get you a 30-day burner.
Conclusion and download link
If you need to hide your true number while selling or networking online, Burner is a stupendous option. The app is easy to navigate. While the pricing system may make some users hestitate, you get what you pay for. Isn't your privacy worth paying a little bit extra for?
Price: Free (but you must buy credits, starting at $1.99 for 3 credits)

Version reviewed: 1.6.7
Supported OS: Requires iOS 5.0 or later

Download size: 4.2 MB
Related Posts