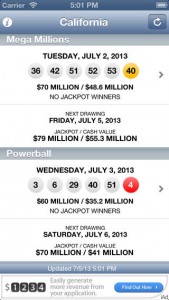 Nobody in my family plays the lottery. I know some people's mums play it religiously, but nobody in my family plays. Or if they do play, it's only once in a blue moon, when the jackpot gets very, very high. If I ever buy a lottery ticket, that's usually why. But then when I buy a ticket, half the time I forget to check the winning numbers. Rather than going through the hassle of doing a web search, or returning to the place you bought the ticket from to look up the winning numbers, an app like Lotto Results can help you out with all lotto queries.
What is it and what does it do
Main Functionality
Lotto Results is an app that gives you recent winning numbers for the lotteries in your area. Past payout amounts, the date of the next drawing, and current jackpot info are also presented.
Pros
Packed with tons of info about upcoming and past lotto draws
Very simple navigation: a great interface!
Targets lottos that are appealing to you based on the state in which you reside (but you can also add games in other states to your listing as well)
Tracks dozens of state lottery games all over the US, as well as multi-state lotto games
Quickly refresh your listings or delete games you aren't interested in
Tap on a drawing to learn more about the rules, draws, and prizes
Cons
Supported by distracting banner ads
Targeted towards US lotto players only
Doesn't appear to be a place to track your numbers for the upcoming draw– it would be nice to have a place where you note where and when you bought your tickets, and what your numbers are
Discussion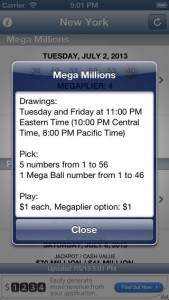 As of version 3.0, Lotto Results allows you to track the state lottos in states other than the one in which you reside. This is great for people who like multi-state games, or for people who want to see what's going on with the lotto in their home state while living far from it.
The interface is really great. It's super simple to get started by your home state, and then look up details for a specific draw. One thing that I really like about this app as a very occasional lottery player is the fact that there are detailed rules for each draw.
You can learn how many correct numbers it takes to earn X amount of dollars, and also confirm the time and date of each upcoming drawing. You can also look up how much it costs for a ticket (and how much "multiplier" tickets cost.)
If you've even gone into a convenience store and felt stupid when you were buying a ticket because you didn't know the rules of the game, using this app is a great way to track winning numbers and also wrap your head around the rules of various lotto games.
Conclusion and download link
If you've ever hesitated to buy a lotto ticket because you didn't know the rules or your chances of winning, Lotto Results is a great way to self-educate and track what numbers have been hot of late. For casual and hardcore players alike, this is a helpful app.
Price: Free
Version reviewed: 3.0
Supported OS: Requires iOS 5.0 or later

Download size: 2.7 MB
Lotto Results on Apple App Store
Related Posts