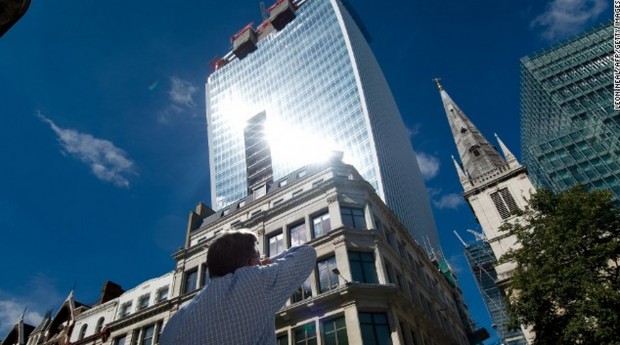 If you happen to be in London and find yourself in the vicinity of 20 Fenchurch Street, or the "Walkie Talkie" building, you might want to be careful about where you park.
The reflected rays from the skyscraper apparently has the power to melt cars. Previously, a van parked in the same street was damaged but this time, an unlucky fellow's Jaguar XJ suffered from warped panels that were beyond repair. Here's a Jaguar XJ (not the screwed up Jaguar, just a Jaguar), a luxury sedan that starts at more than $70,000:
Canary Wharf and Land Securities, the developers of the building, said that they will pay for the damages to the car. Here's what they had to say about the strange problem in a statement:
"The phenomenon is caused by the current elevation of the sun in the sky. It currently lasts for approximately 2 hours per day, with initial modeling suggesting that it will be present for approximately 2-3 weeks."
Now, the developers are working with local business and authorities on suspending dangerous parking spots, as well as long-term solutions to prevent the car-melting incident from happening again in the future.
And this has given me the opportunity to say: pew, pew, pew. I've always wanted to say that.
[via CNN]
Related Posts