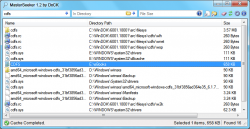 File explorers are meant to help you find, manage and organize the files that you have on your computer. So instead of searching for your files manually, you can simply do a quick search by typing your file's name, folder path, tag or keyword. If you are not currently satisfied with the performance of your current file explorer, then you might consider using an incredibly fast file search engine like MasterSeeker. Well, let's find out if this software could really live up to your standards.
What Is It and What Does It Do
Main Functionality
Created and developed by DxCK, MasterSeeker is a free desktop file search engine for Windows. This software is said to take pride of its incredibly fast file search system which means that you don't have to wait for a long time just to search for a single file or folder. Needless to say, this tool is intended to help you access, manage and organize your computer's file directory in a more efficient and time-saving manner.
Pros
Simple, neat and very responsive UI, easy to use
Very fast – will show you the search results in just a matter of seconds
You can search for files or folders by name, location and size – you are free to set your own parameters
You can opt to include or exclude files or directories in your search results
Shows detailed search results – includes the name of your file, directory path, modify date and size
Can be used to search your removable storage devices (ex. USB flash drives, micro SD cards) and network shares – supports FAT and FAT32 drives
Non-obtrusive – when not in use, you can easily minimize this tool to the system tray area
Does not create or use an index — uses MFT (Master File Table, something that is built into Windows and exists on all computers) to search for and find files
Cons
Limited search parameters – it would be nice if it could filter search results by tags or by file type
You cannot save your search results
Doesn't support exFAT, CD/DVD/DVD-RW
You cannot change its viewing mode which means that it will only show your search results in its detailed view – you cannot change it to thumbnail view, list view or tile view
Cannot search inside files
Requires admin access to run
Requires .NET Framework 2.0
Discussion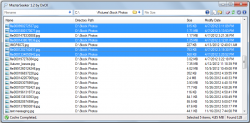 This file search tool is undoubtedly very fast. As a matter of fact, it can search for any types of files or directories and it will show you the results within just a matter of seconds. So there's no need for you to wait for a long time. While I am not really fond of using other file search tools other than what I already have on my computer, I might put some special consideration for the MasterSeeker simply because its very easy to use plus it's really fast. Simply said, the main asset of this software is its speedy performance.
As for its user interface, it's not really that remarkable but it's neat and very responsive. Just by looking at it, you will immediately know what to do. You don't have to wander around and see what its controls are for. It's basically a very straightforward tool that is ideal for computer users of all levels.
Another thing that I like about MasterSeeker is that it allows you to set your own parameters. This means that you can opt to search for specific files or folders. So if you just want to search inside your C:\Users\User1\Pictures directory, then this tool will only search for files or sub-folders that are stored in that specific location. It's just that its filters are only limited to file name, file location and file size. You can't filter your searches by file type, date taken, date modified or tags.
Moreover, this tool doesn't support exFAT and you cannot also use it to search or browse your data discs. You cannot also save your search results plus you cannot opt to change its viewing mode to thumbnail view, tile view, etc. Nonetheless, you can still make the most of what's available. What matters is that this software is reliable and fast enough to help you search, manage and organize your files and folders.
To wrap things up, I could say that this software is very commendable. It may lack in certain areas but it certainly doesn't lack when it comes to its performance. I really like the fact that it uses a unique technique that optimizes user experience plus compared to other file search engines out there, this tool is much easier to use plus it's very efficient.
Conclusion and Download Link
If you are looking for a quick and easy way to search for files and folders, I suggest that you try MasterSeeker. It's not a perfect file search engine but it's really good. In fact, it is more or less as fast as Everything, dotTech's favorite free desktop search tool, without having the need to create an index. Check out MasterSeeker if you want a fast desktop file search tool.
Price: Free
Version reviewed: 1.2
Supported OS: Windows 2000, XP, Vista, 7, 2003, 2008, 2008 R2
Note: Requires .NET Framework 2.0
Download size: 533KB
VirusTotal malware scan results: 0/47
Is it portable? Yes

Related Posts