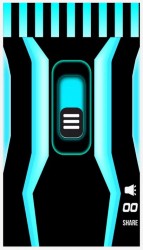 Every once in a while you come across a situation where you could really use a flashlight, or at the very least a little bit of illumination to see what you're doing. For some reason, I always tend to take my trash out later in the evening when it's dark outside. We keep our trash can behind our house, because the garbage truck drives down a small dirt road –you could call it a ghetto alley- to collect it. Long story short, the trek to dump my trash takes me on a very dark journey. It would help immensely if I had a flashlight. That being said, I'm almost always carrying my smartphone. Cue Flashlight Illuminus, a remarkably simple application for Android that allows you to use the rear flash on your device as a flashlight. Obviously, in order to take advantage of this app your device will need to be equipped with a rear facing flash.
What is it and what does it do
Main Functionality
Flashlight Illuminus is a very simple application for Android that allows you to use the rear facing flash on your device as a flashlight. Not only does it offer a toggle to turn the flash on and off, it also includes support for a strobe mode of which you can explicitly control the flashing frequency.
Pros
Very minimal torch app for mobile devices, uses the rear facing flash as a light
You can toggle the light on and off quickly
Includes a strobe mode with nine different frequency levels (varying flash rates)
Cons
While running in the background it can cause your display to turn on randomly, this can be remedied by force closing the app when it's not in use
Uses about 30MB of RAM, seems a bit high for an app of this caliber
Discussion
When I say this is a very minimal application, I really do mean it. As soon as you open the application you will be presented with the UI, which doesn't have much. There is a single toggle button which allows you to turn the rear flash or torch function on. After doing so, the flash remains on until you tap the toggle button again.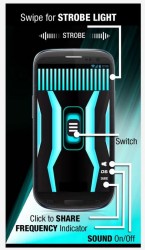 At the top of the interface is a unique design, which is very easy to miss if you don't view the quick help image (which I've included to the right). Swiping from right to left at the very top of the screen will activate the strobe function. If you continue swiping as much as possible, you will ramp the strobe frequency up to the maximum limit. You can swipe in the opposite direction to turn the strobe function off or lessen the flashing frequency. This action can be done both while the rear flash is on or off, it does not matter.
In the bottom right corner you'll see three different indicators or dialogue buttons. The very first allows you to enable or disable the sound effects that play when interacting with the app. Personally, I think the sound effects are well done and they allow you to determine when you're interacting with dialogues.
Below the sound toggle is a two digit indicator, which will count up to a maximum of 9- displayed as "09". This indicator tells you the strobe frequency that you have the app set to. Obviously if the indicator says "00" then the strobe function is off.
At the very bottom is a share button, which brings you to the Flashlight Illuminus Google Play page. From that page you can post a review of the app (I would encourage you do so with all apps you enjoy), or you can share the app through various social network accounts.
I did notice that once the app had been started, if I left it running in the background (without force closing it) my screen would turn on randomly. This can be easily remedied by force closing the app through the stock Android app menu, or by using a task killer app of some kind.
For reference, Flashlight Illuminus uses nearly 30MB of RAM while running.
Conclusion and download link
Flashlight Illuminus is an Android application that turns the rear-facing flash on your device into a torch or flashlight for low-light conditions. It boasts a very minimal UI, with a single toggle to turn the light on or off as needed. You can also activate a strobe mode with nine different frequency settings. In addition, high quality sound effects playback as you interact with the different UI elements, but the sound can be disabled if you don't like it. It does use about 30MB of RAM while running which is a bit much for an app of this caliber, but then again it didn't cause any significant performance issues during testing. I'm assuming due to the wakelock function, the app can make your screen turn on and off at random while running- this can be easily fixed by force closing the app when you're done with it. If you're looking for a simple and efficient flashlight tool for your Android devices, this is definitely one of the best I've encountered.
Price: Free
Version reviewed: 1.0
Requires: Android 2.2 and up
Download size: 2MB
Flashlight Illuminus on Play Store
Related Posts