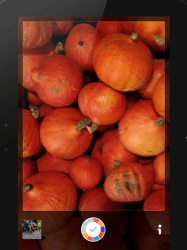 There are already a lot of animated GIF apps out there. So don't be too surprised if ever you find one that entices you to join their online GIF-sharing community, etc. As for Fixie GIF, it wants to introduce something different. It wants you to give your animated GIFs a personal touch by letting you add a variety of cool and funny doodles and styled fonts.
What Is It and What Does It Do
Main Functionality
With Fixie GIF, you can create, edit and share your animated GIFs to your favorite social networks such as Facebook, Twitter, Google Plus and Tumblr. With this app, you can generate lots of animated GIFs using your smartphone's camera. There's also no limit to the type or amount of GIFs that you can create. It could be a GIF of your cute pet or a quick snapshot of one of your life's funniest moments.
Pros
Easy to use
Stylish and neat user interface
Directly captures animated GIFs using your phone or tablet's built-in rear camera – the maximum duration for each GIF is 1.5 seconds
Features a wide variety of free borders, doodles and fonts
Quick share buttons – you can instantly view and share your GIFs to your friends on Facebook, Tumblr, Twitter, Google Plus, E-mail, etc.
You can view your animated GIFs in your Fixie gallery. You can also switch between list view and tile view
Cons
The app may not work properly on some devices
Doesn't have a tool for editing the frames that you want to delete or include in your animated GIF
The rest of the app's borders, fonts and doodles aren't available for free – you need to purchase them separately (each pack costs around $0.99 cents)
The GIF editor lacks the needed tools for undo, crop, flip and image resize
The app itself isn't social – you can't explore and search for other interesting animated GIFs, you cannot follow other users and you cannot leave comments
Discussion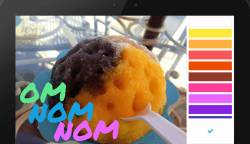 The Fixie GIF app has its good points and bad points. First off, let's start with its good points. What's good about this app is that it's very easy to use plus it's direct to the point. It lets you create lots of animated GIFs plus you can edit your images so that they will look more stylish and funky. You're free to add borders, doodles and custom fonts. This also means that you have more freedom to make each GIF image unique.
After launching the app, all you need to do is to press its GIF capture button (the button that looks like a prize wheel) and it will instantly capture the moment that you want to capture may it be a blooper scene or a scene that showcases your adorable cat. Do take note that every animated GIF will only last for 1.5 seconds but that's more than enough to share those moments that you cannot capture by simply taking a single shot.
With regards to the app's negative points, it's really a downer that it doesn't allow its users to edit the frames for each animated GIF. You cannot choose whether to keep that specific frame or not. Everything that the app captures, that is already considered as final. Other than that, it also seems that the Fixie GIF app still has some bugs and glitches. When I first tried it on my low-end Android phone, it didn't work properly but when I installed it on my other device, it worked just fine. This somehow implies that the app may not work properly on certain devices plus it's also lacking in many aspects.
Aside from the fact that the app doesn't have the option for editing GIF frames, it also doesn't have the tools for cropping and flipping your animated GIFs. So you cannot expect this app to flip your GIFs position. You cannot also expect it to crop or resize your image. Furthermore, you are not allowed to download and use the rest of its cool borders, fonts and doodles unless you're willing to purchase each add-on pack for less than a dollar.
It is also important to note that Fixie GIF is only good for creating animated GIFs. It's not a social photo app so you can't really use it to flaunt your GIFs to the entire Fixie community. If you want to share your works, all you can do is to make use of the app's built-in sharing tools so that you can showcase your GIFs to other social networking sites such as Facebook, Twitter and Tumblr.
Conclusion and Download Link
I don't feel that this app is worth to keep. Fixie GIF app is good in a sense that it can make animated GIFs that lasts for 1.5 seconds. You can also edit your GIFs by adding those trendy borders, doodles and fonts but it still has a lot of downsides. The thing that disappoints me the most is the fact that this app cannot edit the frames plus it doesn't have a social networking features which is quite boring especially if you are already used to other fun apps such as GifBoom and GIF Camera.
Price: Free 
Version reviewed: 1.0
Requires: Varies with device
Download size: 3.2MB
Related Posts