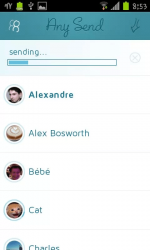 To share or send a file to another device means that you must carefully choose your preferred file sharing method. If you are just sharing simple files such as PDFs and photos, you can easily send them via Bluetooth or e-mail. Now, what if you want to share your entire music collection to your friend or co-worker? Will you still be able to rely on these methods? Well, if you have Any Send, it would be much easier for you to share your files to your friends and colleagues at work.
What Is It and What Does It Do
Main Functionality
What is Any Send? It is basically a free file sharing app that is created and developed by Adylitica, Inc. What this app does is that it lets you wirelessly share files between devices (computers, smartphones, and/or tablets) that are on the same WiFi network. With the help of this app, you can easily send your files from one device to another . Plus, there's no limit to the type of files that you can send. You can send your photos, mp3 files, videos, e-books, text documents and a whole lot more.
Take note Any Send is available on Windows, Mac OS X, and Android. For the purposes of this review, we took a look at the Android app but the Windows and Mac OS X versions are similar.
Pros
You can send and receive any type of file – photos, videos, songs, word documents, PDFs, compressed folders, APK files, etc.
Cross-platform support; you can share files between all computers, smartphones, and tablets that have Any Send installed and are on the same WiFi network. Any Send supports Windows, Mac OS X, and Android, so you can essentially wirelessly share files between all Windows, Mac OS X, and Android devices that are connected to the same WiFi network.
Fast and easy file transfers – just copy and paste the file that you want to send to another device
Automatically detects the users that are connected to your local WiFi network
You can set the app to automatically accept files from trusted users
Customizable user profiles – you can set your preferred username and profile photo
Runs as a background service, meaning you don't have to worry about turning it on to receive files
Shares files over your WiFi connection, meaning your files are never stored on the internet or in the cloud
Neat and responsive UI, very stable
Easy to use
Cons
Lack of user privacy – there appears to be no encryption used while transferring files, so your files will be at risk especially if you're connected to a public WiFi network or a WiFi used by people you don't trust
You cannot set your app in a way that it will keep your device from appearing in the network
You cannot share your files to devices that run on platforms which don't have an Any Send app, such as iOS (iPhone, iPad, iPod touch), Windows Phone, and BlackBerry. For what it is worth, an iPhone and iPad app is "coming soon"
Windows version comes with bloatware/crapware during install — be careful while installing
Discussion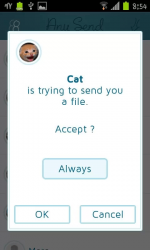 Any Send provides an alternative solution for users who wish to send and share files over their local WiFi network. When using this app, both users must establish a connection between each other. This can be done by installing the app on both devices. It is also a must for both devices to be connected to the same WiFi network.
What's great about this app is that it is not only limited to Android. Users can also share files to other devices that are running on different platforms. This means that if you want to send a file to your PC using your Android device, all you need to do is to install the app's desktop version on your computer. The only downside to this feature is that it currently does not support file transfers on unsupported devices (ex. iOS, BlackBerry OS). On a positive note, the app's development team has already stated that it is currently working on its iPhone and iPad versions.
Moreover, the process for sending and receiving files via Any Send is as easy as sending a file over IM (instant messenger). Once you've installed the app, it will automatically detect all of the users that are connected to the same local WiFi network. This means that there's no need for you to search for your friend's user ID, etc. Your friend's profile will automatically show up. Once you've established a connection, you can just copy the file or folders that you want to send and then you click on your friend's profile. After that, you wait until your friend confirms the file transfer. Once done, you will be notified by the app that the file transfer has been successfully completed. Apparently, you won't have a difficult time using this app since its method of sending and receiving files is very similar to Bluetooth file transfers.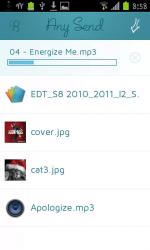 Nonetheless, there's still a possibility that your files could be exposed to unauthorized users especially if you are establishing a connection under a public WiFi network. This is because the app doesn't require its users to provide a passkey plus you cannot even opt to make your device invisible. Anyways, you could always opt to take precautionary measures to prevent other people from gaining access to your important files.
All in all, I could say that the Any Send app is a very reliable app. It's also great for sending large files. Compared to sending files via USB or Bluetooth, this method is way better. It's very convenient to use plus there is no need for you to carry those bulky USB cables.
Conclusion and Download Link
What I like most about this app is that not only does it work well but it supports multiple platforms, allowing you to easily send and receive files of any type, format, or size between all your devices (computers, smartphones, and tablets). Any Send is a great way to share files between devices, especially if you aren't a fan of Bluetooth and USB file transfers. I highly recommend that you try this app if you need this sort of functionality — just be careful of using it over public or untrusted WiFi connections.
Price: Free
Version reviewed: 1.2.4
Supported OS: Windows XP, Vista, Windows 7, Windows 8 | Mac OS X 10.6+ | Android 2.2 and up
Download size: 27MB (Windows), 2.0MB (Android), 5.4MB (Mac OS X)

Any Send homepage | Any Send on Play Store | Any Send on Mac App Store
Related Posts