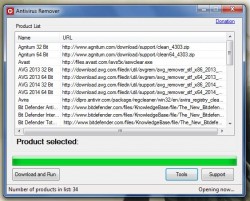 I loathe antivirus software. Yes, in many cases they are a necessary evil but it's what they leave behind that's the real problem — assuming you are able to successfully remove it in the first place. Some offenders like the Norton or McAfee suites will leave behind tons of registry entries and app elements. Norton in particular is one of the most difficult virus tools to remove, and it doesn't help that it comes pre-loaded on a lot of new computers. Even AVG and Avast are pretty big offenders when it comes to leaving traces behind after an uninstall. Antivirus Remover is a Windows application designed to help you uninstall antivirus bloatware and get rid of all traces that some of the peskier antivirus suites out there leave behind.
What is it and what does it do
Main Functionality
Antivirus Remover is a Windows application designed specifically to help you rid your system of those pesky antivirus suites.
Let's put it this way, developers don't want you to be able to remove antivirus software that comes bundled with a new computer without some kind of hassle. However, they must let you uninstall their software least they be labled malware themselves. So most antivirus companies actually offer an advanced removal tool for their software which comes seperate from the antivirus program itself and must be downloaded.
Antivirus Remover makes it easy for you to download those advanced removal tools and then run them to uninstall antivirus bloatware and delete leftover traces.
Take note it is recommended that you run the application while in Safe Mode, and that you restart your machine after each uninstall.
Pros
Comprehensive antivirus software uninstallation, includes removal tools for almost all antivirus suites on the market
One click lets you download and run for every advanced removal tool
Minimal, and very easy to use
Cons
Seeing as Antivirus Remover itself doesn't do any cleaning but rather lets you download the tools provided by antivirus developers to tremove their software, The true cleaning/removal power depends solely on the removal tools offered by the developer. If an official removal tool does shoddy work then that's the best you'll get.
Requires Microsoft .NET Framework 4.0
Works best in Safe Mode, which isn't a con of Antivirus Remover itself but rather just a good tip that you should be in Safe Mode when removing antivirus software
Because of the way it works, the Antivirus Remover download package doesn't come with all the advanced removal tools — you download the tools from within Antivirus Remover on an as-needed basis. While this is good in the sense that the download size of Antivirus Remover itself isn't bloated, this is bad in the sense that you will need an active internet connection to download the advanced removal tools when you run Antivirus Remover.
Discussion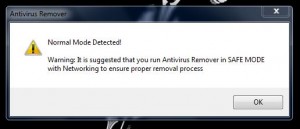 Traditionally, if you wanted to completely uninstall an antivirus program or suite including all the traces that are left behind you would have to visit the developer's website and download a special removal tool. If you use more than one security package at a time (obviously that's not recommended) or if you are constantly installing and uninstalling them it can certainly become a hassle. Antivirus Remover is a free Windows application that will allow you to download all of the related packages from a single interface.
This application was designed to be run in Safe Mode, and while it is recommend to be in Safe Mode when using Antivirus Remover, that's 100% necessary. Just know that if you do run the application outside of the Windows safe mode environment the results may not be as good. Generally, this is because in Safe Mode the OS is only running the bare minimum in terms of background services and software. There's no installation required, you can just run the executable. You will receive a warning if you're not running the app in Windows Safe Mode though.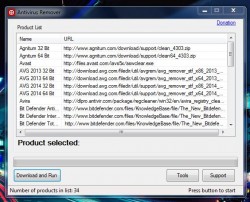 The UI is remarkably simple, and when I say "simple" I really mean it. There are only three dialogue buttons to interact with: one to download and run various removal tools, one to launch third party removal tools like Hitman or Antimalware Pro, and the other to navigate to the support page for the Antivirus Remover app. On startup, a listbox will populate with all of the available removal tools offered by antivirus software developers. To use the app, all you have to do is select a antivirus suite removal package from the list and then click "download and run".
The items are displayed in the listbox by developer, in alphabetical order. That makes it pretty easy to find a removal tool associated with your particular antivirus software suite.
Once you download and run a removal tool, the related content will automatically be removed from your system. That means the application automatically uninstalls and cleans files and data pertaining to the selected antivirus suite. You literally can just click once and go. The third party removal tools work in the same exact way as the removal packages for the antivirus software. When you click on the "tools" button a list will appear, and after choosing a tool the app will begin downloading it before automatically launching the install package or running the software.
It is certainly recommended that you restart your computer after each uninstall, but it's not mandatory.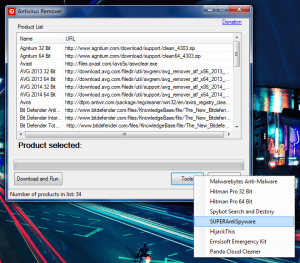 Just to provide a bit of reference, downloads do not take very long at all. Once a removal package has finished downloading, the uninstall process will automatically launch. There's little to no time in-between the two steps, so once you start the download and run process there's pretty much no going back.
It's not a tool that you're going to run in the background at all times, but still it's a great app to leave on your computer for various situations where you might need it. You will need to have the Microsoft .NET Framework 4.0 installed in order to use the app, however.
It's also worth noting that while this app works on both 32 and 64 bit OS versions, the related packages are generally listed separately when choosing removal tools. That means, if you have a 64 bit version of Windows installed and a 64 bit version of a antivirus suite, you'll want to pay close attention when choosing a removal tool.
The app works great, and during testing I installed and removed several virus packages including Norton, AVG, Avira, Avast and ESET/NOD. Of course, there are a ton of antivirus suites out there and it's impossible for me to test the validity of all these tools. From what I could tell, the application removed all traces of the virus packages, including registry entries. That being said, unless you know exactly what you're looking for sometimes it's difficult to tell if everything has been removed regarding registry clutter.
Conclusion and download link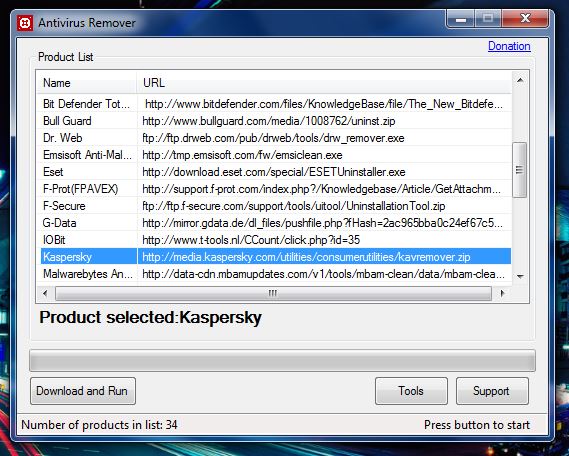 Antivirus Remover is a comprehensive maintenance tool that gives you quick access to remove or uninstall most antivirus programs. Generally, developers of antivirus software offer a removal tool associated with their particular software which helps you remove any clutter that gets left behind after an uninstall, or allows you to actually uninstall in the first place. Antivirus Remover takes those different packages and offers them to you in one convenient place. With the click of a button you can easily download any antivirus removal tool and remove that antivirus suite. Downloads complete relatively fast, and the uninstall process is launched as soon as the related package has been downloaded. Of course because Antivirus Remover isn't doing any cleaning itself but rather letting you download tools provided by antivirus developers, the true cleaning power of these tools solely relies on the removal package offered by the developer. But in my experience, they all work quite well.
Overall, Antivirus Remover is a great tool to keep around if you're interested in uninstall antivirus bloatware or cleaning up all the crap left behind by antivirus software after you remove them from your system. Check it out.
Price: Free
Version reviewed: 1.17
Supported OS: Windows 8/7/Vista/XP
Download size: 401KB
VirusTotal malware scan results: 0/46
Is it portable? Yes
Antivirus Remover download page at Wilders Security Forums
Related Posts