If you think that you are totally safe when you're using the Internet, then you better think again. The online world is filled with a lot of security loopholes that may compromise your personal and confidential information. There are trackers everywhere and your data is being collected by many ad-serving companies and tracking agents. Now, here comes the best part – majority of these cases happens while you are using your web browser. Fortunately, there's a browser that aims protect your privacy and it's called Epic Browser.
What Is It and What Does It Do
Main Functionality
Epic Browser is a Chromium-based web browser that is created and developed by Hidden Reflex. What this browser does is that it prevents and blocks those tracking scripts from collecting your data. This makes it difficult for anyone to track and view your browsing activity. Aside from this, Epic Browser does not facilitate any activity that could possibly leak your important details. It won't keep your passwords and in just one-click, you can automatically set your browser to hide your real IP address.
Take note Epic Browser is available on both Windows and Mac OS X. We specifically reviewed the Windows version.
Pros
Free to use, very neat and responsive UI
Fast internet browsing – since this web browser is based on Chromium, it looks and feel like Google Chrome but it is more privacy focused
It will automatically enable its "surf by proxy" feature in just one-click. This way, you can surf any site without the fear of revealing your real IP address
It blocks and removes any potential source of privacy leak such as the ones listed below:

Address bar suggest
URL check
Auto-translate
URL tracker
Installation-ID
RLZ-tracking number
Default updater
Installation time stamp
Alternative Error Pages
Navigation Error Suggestions
Error reports

It doesn't keep a log of your browsing history, it doesn't keep any third-party cookies, it does not support spell-check and auto-fill, etc.
Upon closing your browser, it will automatically clear all of your browsing data which includes your most visited links, media cache, login data, shortcuts, top sites, application cache, favicons, etc.
It is designed to block any known and possible tracking scripts and cookies. It will also block those ad networks and third-party widgets.
You will be able to view those sites and videos that are usually blocked by your area or region
Cons
Since a lot of your web browser's traditional features are removed or blocked, you'll have to compromise your browsing experience without relying too much on certain tools such as auto-suggest, auto-translate, spell check, local search, etc.
You cannot set Yahoo, Google or Bing as your default search engine so you have to search using its integrated search provider which is epicsearch.in
Since Epic Browser blocks any type of add-ons and extensions, you cannot make use of certain web apps such as Feedly and Evernote
Discussion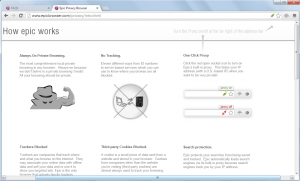 Just imagine how frustrating it would be to know that you are being tracked even when you're at home. For sure, you would start to feel like you are no longer safe and that your privacy has been breached and the worst part of this is that you are actually allowing other people and companies to track you. You might be unaware about it but as soon as you browse the internet, you are risking your privacy since there are countless of trackers out there that are programmed to collect your valuable personal information.
Thus, having a browser like Epic Browser is really a good way to browse without frequently thinking that you're constantly being tracked. It's also a good alternative for users who wish to watch online videos without those annoying ads. What's great about this browser is that it's based on Chromium so it almost looks identical to Google Chrome but unlike the latter, it blocks those things that could potentially leak your private information to unauthorized people, companies or organizations.
Performance wise, this browser can browse the web easily and it's very fast. It can stream videos, it can load songs and it basically does anything that you normally do on your web browser. The major difference is that with this browser, you're not allowing those ad-serving networks to collect any valuable info from you. This web browser won't keep any cookies, it won't even keep your browsing history plus you can anonymously surf the web by using a proxy. It's also very easy to use and everything is explained in a way that even a newbie internet user can understand. You can also customize your browsing preferences in just a few clicks.
Of course, using a secure web browser like Epic Browser also has its downsides. Since it basically blocks any potential source of information leak, you cannot make use of certain tools that will help you search and perform your usual online tasks with ease. For example, when you're browsing for certain word definitions, this web browser won't auto-correct your mistyped words plus you cannot also opt to auto-translate those pages that were written using a different language. Aside from this, you cannot also make use of your favorite web apps and browser extensions.
Nonetheless, the advantages that this web browser can offer are far more important than not being able to browse with auto-suggest tools. The level of privacy that this browser can offer may not fully guarantee that you are not going to fall into the trap of those data thieves and hackers but its way better than openly exposing yourself to the vast internet jungle that is filled with tracking cookies and data stalkers.
Conclusion and Download Link
I really like the features of this browser. Needless to say, the Epic Browser is indeed epic because it doesn't compromise the privacy and welfare of its users just for the sake of monetary compensation. It is way better than the Incognito browser of Google Chrome plus it's very fast and stable. The tradeoff is you must sacrifice features and functionality that you would normally find in other browsers, like Chrome.
Overall, if you want to protect your privacy without totally giving up your life online, I strongly recommend that you download and install this browser on your computer.
Price: Free
Version reviewed:  29.0.1.0
Supported OS: Windows XP, Vista, Windows 7, Windows 8, and Mac OS X

Download size: 1.74MB
VirusTotal malware scan results: 1/47
Is it portable? No
Related Posts