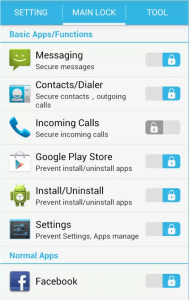 When it comes to user privacy, it is a must for everyone to learn how to prevent other people from snooping into their smartphone applications. While it's totally okay to let your friend borrow your phone just to play 2Fuse or Candy Crush, there's no guarantee that they won't peek at your Line or Facebook conversations and who knows? They might even pose as you as they spam your Instagram account. If you don't want any of these troublesome things to happen, you better consider using an app locker such as HI AppLock.
What Is It and What Does It Do
Main Functionality
Created and developed by Hi App Team, the HI AppLock app is a free app locker for Android. With the help of this app, you can choose the apps that you want to lock or unlock. Once your app is locked, no one else can access it except for those who have the permission to do so. This also means that every time an unauthorized user will attempt to open a locked app, he or she will be prompted to provide the correct password.
Pros
Simple, straightforward and easy to use
The app itself can be locked – this will prevent other users from altering the preferences that you've set for your locked/unlocked apps
You can lock individual apps just by simply switching their lock status to "Off" or "On"
Supports multiple locks – one main lock and one secondary lock
Features two basic lock types – number lock and pattern lock
Supports multiple lock themes – by default, users can use the app's standard white and blue theme but you can add more themes by downloading them directly from the Play Store
Provides the basic options needed for user settings and customization – notifications, relock policy, password and lock type, lock screen, etc.
You can prevent unauthorized users from uninstalling the app via Settings > Applications
You can hide the HI AppLock icon so that it won't show in the notification bar. On your app, go to Settings > Notification (Anti Killed) > Customize Notification Display then select the option for "Display Nothing (blank)"
Cons
The UI needs more improvement – it's stable and responsive but it still failed to provide the best user experience. One good example of this is that users cannot undo the mistakes that they've made while typing their passwords. You need to restart the app first before you can retype your password.
Aside from the main lock, free users are only entitled to using one secondary lock. If you want to create more locks with different passwords, you need to purchase the app's Pro version which costs around $1.93
You cannot set a fake error message and you cannot also disguise your app locker as a different app – these features are only available to Pro users
Discussion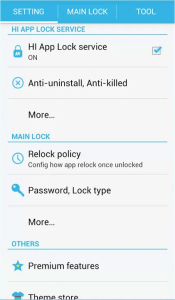 The HI AppLock app is basically meant to lock individual apps. This is actually good in a sense that it helps you protect your privacy. Come to think of it, your smartphone apparently contains a lot of personal and confidential information. This could pertain to the people on your contact list, your online conversations, your private documents, photos and videos. Thus, with the help of a reliable app locker such as HI AppLock, you can prevent others from taking advantage of the info that they can get by merely snooping on your smartphone.
After installing the app, it will immediately prompt you to create a PIN or password. Do take note that this password is your "master password" and it is mainly used on the apps that you've locked under the "main lock" option. You also need this password to unlock the HI AppLock app so be sure to keep a copy of this and it would be best for you not to share this password to anyone else.
Once you're done setting your master password, you can start locking the apps that you want to lock. You can lock your phone's fundamental apps such as your dialer, contacts, SMS messages, etc. You can also lock the rest of your apps such as your gallery, calendar, mobile web browser, Facebook, Twitter, Instagram, File Manager, etc. If you want to customize the behavior of your locked apps, just go to the Settings tab and then change the relock policy to your desired setting. You can also opt to hide your app locker so that it won't appear in the notification bar. This way, other people won't know that you are actually using an app locker to lock your apps.
Another good feature of this app is its secondary lock. Aside from the main lock, you can also make use of its secondary lock to lock your apps using a different PIN or password. This is great for sorting out your basic apps as well as your normal apps. For example, you can use the main lock for securing your basic function apps and then you use the secondary lock to secure your casual or gaming apps.
While I like most of this app's features, I just am not that fascinated with its UI. It has a lot of downloadable themes but still, there were some important features that were not present. For instance, when you're trying to unlock an app and yet you made a mistake by typing the wrong password, you cannot simply undo your action because its password box doesn't have that "x" or cancel button. Other than this, you cannot also use a fake error message. This particular feature is only available to those who opted to purchase the app's full version.
Conclusion and Download Link
What I can say about this app is that it's good, it does what it is advertised to do, plus it's reliable. I really didn't have any serious issues regarding this app so if you want to try it out, go ahead. I can't guarantee that it's the best app locker out there but it does its job well. If you think that this app just doesn't fit into your criteria, I suggest that you try this other app called Smart App Protector.
Price: Free – users can upgrade to Pro for $1.93
Version reviewed: 2.8
Requires: Android 2. 1 and up
Download size: 1.6MB
App Lock (HI AppLock) on Play Store
Related Posts