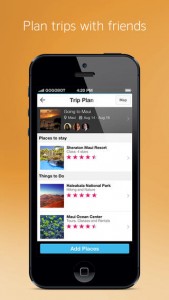 I need a vacation. Chances are, you probably need one, too. Who doesn't need a vacation? Travel is one of the few things that can really give our brains a "hard reset" and make us feel refreshed. But if you can't make the time to get away right now, it doesn't mean that you can't blow off some steam by thinking about where you'd like to take your next trip. If you want a travel app that's part booking service, part inspiration, and part social experience, check out Gogobot.
What is it and what does it do
Main Functionality
Gogobot is an iOS travel app. Hotels, dining, and excursion ideas are all covered here, and you can use this app to plan a travel outing with your friends or solo. You can book hotels from within the app. You can also create photographic postcards of your travels and share them.
Pros
Database of over 60,000 locations
Engage with a passionate community to get ideas for your next trip
Log in using Facebook, Twitter, or your email address
Make hotel reservations from your iPhone via Booking.com
Clean, attractive interface
Create trip plans to make a record of your "bucket list" travel dreams
Tell friends "I'm off!" with an in-app tool for sharing your travel plans
Cons
Not all tiles load with location-specific images, which can be a bit jarring
Somewhat hard to search for specific locations/businesses in a city
Discussion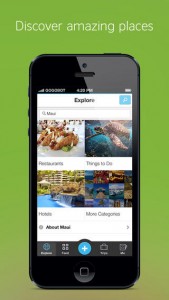 Gogobot is basically a three-pronged app. The focus areas here are planning a trip, learning more about the place you plan to visit, and capturing memories of your time in that place. To get started using the app, you'll be asked to select "tribes" that appeal to your travel style/interests. These include categories like "backpackers," "budget travelers" and "history buffs."
From there, you just enter the location you'd like to explore in the search bar, and go from there. You can review top-rated hotels, restaurants, "things to do" and "more categories" (such as outdoors, shopping, spas, and tours.) For more personalized/social experience, connect using your Facebook account: this triggers the app to highlight places that are popular among your friends.
No idea what to type into the search bar? You can opt for the "feed" area of the app instead, and get travel inspiration based on the likes of other users. You can also fill out your "passport" with guides and stats about the places you've been (number of cities, number of countries, number of postcards, etc.)
Conclusion and download link
Gogobot is a robust, fun, and immensely helpful travel tool. There are tons of useful reviews, basic info about various locations, and tons of travel categories to help you find places that are relevant to your interests. If you want a travel app that stands a better chance of "getting you" as a traveler, Gogobot is worth checking out.
Price: Free
Version reviewed: 2.6.0
Supported OS: Requires iOS 6.0 or later.

Download size: 21.1 MB
Gogobot on Apple App Store
Related Posts