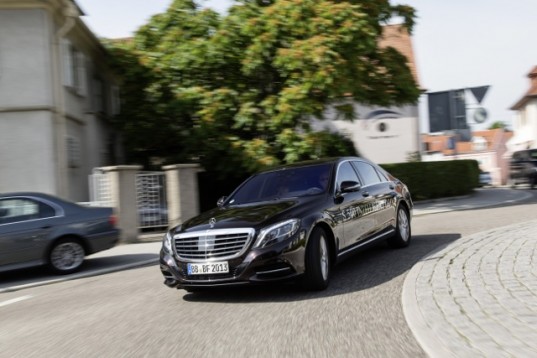 The world of self driving cars has taken a twist with Mercedes-Benz entering the arena with their self-driving class, S 500. (Which, by way, tells us why car manufacturers were unwilling to work with Google, which ultimately forced the company to begin making plans of going at it alone.)
It appears Mercedes-Benz is well ahead of the pack, as the company became the first car manufacturer to pull off automatic driving on both interurban and urban routes. It's probably a good sign that things are going pretty well on the software side of things, which could allow Mercedes to launch the first self driving car ahead of the competition.
The great thing about the S 500 is its ability to recognize traffic, stoplights, trams, cyclists, pedestrians, and even roundabouts. We're not certain if the Google self driving car is capable of everything we just listed, but Mercedes appears to be quite ahead in this space. Check out the demo in the video below:
"This S-Class spells out where we're headed with 'Intelligent Drive' and what tremendous potential there is in currently available technology," says Dr. Dieter Zetsche, head of Mercedes-Benz Cars. "Of course, it would have been a lot easier to take the autobahn for the autonomous drive from Mannheim to Pforzheim. But there was a special motivation for us to carry out this autonomous drive along this very route 125 years after Bertha Benz. After all, we wouldn't be Mercedes-Benz unless we set ourselves challenging goals and then went on to achieve them."
Here's the interesting part that is sure to peak in your interest. According to Hybrid Cars, the technology used in the Mercedes S 500 is not special nor it is expensive. In fact, the car manufacturer is using "near-production-standard technology," which from our understanding, is already found in some Mercedes made cars in some form or the other. So you may see self driving Mercedes on the road sooner later than rather. Too bad I can't afford one.
What are your thoughts on self driving cars? Let us know in the comments below!
[via Hybrid Cars, image via Inhabitat]
Related Posts