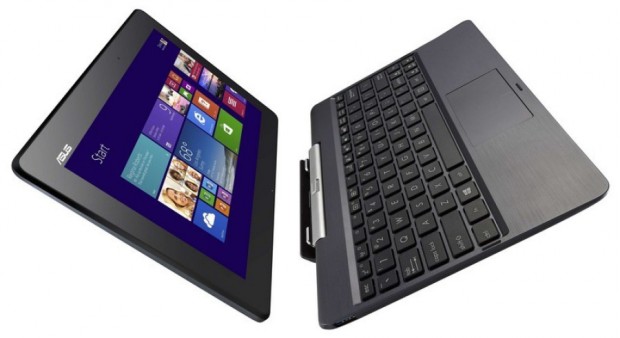 With the low sales of Windows 8 devices, computer manufacturers are forced to improvise in hopes to stay afloat in what is called the post PC era. At the recently held Intel Developer Conference, ASUS highlighted a sleek Windows 8.1 device that is able to transform before your very eyes. The device is known as the Transformer Book T100, and it is basically a laptop/tablet with an Intel inside.
The T100 is a tablet and attachable keyboard. So you can use it as a laptop when needed and then simply detach the keyboard and use it as a tablet.
Aside from its hybrid nature, the screen size here is 10.1-inches at 1366 x 768, there's a built in 32GB worth of storage (with optional upgrade to 64GB version), and there's a MicroSD card slot for folks who will need more storage. When it comes down to processing power, this baby is running a quad core Intel Bay Trail Atom processor, which allows the Transformer Book T100 to give the user 11 hours of use on a full charge.
And the real selling point? The T100 will only cost you a cool $349 for 32GB version and $399 for 64GB version, which is an excellent price considering it runs full Windows 8.1 (not Windows RT) and comes with an attachable keyboard.
Now, this Asus device is designed for budget users and for users who do not require a desktop-like powerful computer device (because the Intel Atom processor may be quad core, but it is still an Atom — the type of CPUs that were originally designed for netbooks). If marketed well, we can see the Transformer Book T100 and others like it finally pushing Windows 8 into the hearts and minds of consumers, just as long as the price stays under $400.
Expect to see this device on store shelves in the U.S. come October 18, 2013. No word on when other countries will have the chance to give this laptop/tablet a spin.
[via The Verge, image via Amanz]
Related Posts