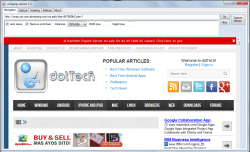 When you're taking a screenshot of a particular webpage, do you usually use the Print Screen button to capture and save its image via Paint? If you do, then you're probably aware of the fact that you cannot take a full screenshot of a page in just one click. This is because you need to scroll down to view the entire page. If you want to find a quick solution for this problem, you better check out this software called URL2JPEG.
What Is It and What Does It Do
Main Functionality
URL2JPEG's name may sound a bit confusing but if you pay more attention to its features, you will eventually realize that its purpose is not really that confusing at all. As a matter of fact, URL2JPEG is a pretty straightforward tool that is designed to take a screenshot of an entire webpage. Just open and load the page that you want inside URL2JPEG, click the "capture" tool and voila! URL2JPEG takes a screenshot of the entire webpage, even the scrolling parts, and you're ready to save your screenshot as BMP, JPEG or PNG.
Pros
Neat and responsive UI, very easy to use
Can capture a whole page in just one-click – it doesn't even matter if the webpage is larger than your screen (i.e. supports screenshotting of scrolling webpages)
Auto Preview function
You can save your screenshot as PNG, BMP or JPEG
Features a built-in webpage browser/viewer with custom parameters – just paste the URL of the page that you want to load in the address bar then set your preferred webpage size (width x height)
You can copy/save the full webpage or just a part of the webpage (copy to clipboard)
Can load scripts for batch capture
Multi-language support
Cons
The navigation/webpage viewer section doesn't support multiple tabs so you can only process one screenshot at a time
You cannot split the full screenshot of your webpage into multiple parts, meaning URL2JPEG takes screenshots of whole webpages without the option to only take screenshot of a specific portion of a webpage
It can be a bit annoying to have to use URL2JPEG's built-in browser to take screenshots — some people may want to be able to take screenshots of websites from their default browser
Really only designed for taking screenshots of websites — you can't use it for other screenshotting needs, like you can with other screenshot programs
Requires .NET Framework 2.0
Hasn't been updated since 2007
Discussion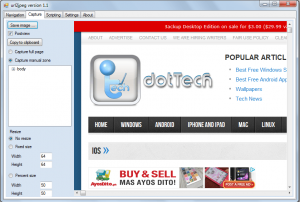 Functionality wise, URL2JPEG is a simple tool that is suitable for anyone. It offers a practical method for taking web screenshots. With this tool, you can easily take a screenshot of a full webpage without having to scroll all the way down to the page footer. Compared to the traditional way of taking web screenshots, this tool won't let you go through anything that will only waste your time and effort. Just capture the webpage as it is, save the screenshot to your computer and that's it!
For starters, you need to acquaint yourself with this tool's basic options. Speaking of which, URL2JPEG features five main tabs: Navigation, Capture, Scripting, Settings and About. To use this tool, the first thing that you need to do is to go to the Navigation tab. This is the section wherein you can paste and load the URL of the webpage that you want. For example, if you want to take a full screenshot of the dotTech homepage, simply paste its URL to the address bar, check the appropriate parameters then click "Go". You will then see a full preview of the webpage and if you are already satisfied with its settings, click the "Capture bitmap" button. This command will load the screenshot version of the webpage into the "Capture" tab. In this section, you can opt to save the screenshot as PNG, JPEG or BMP. If you want, you can also opt to copy the screenshot so that you could paste it on a separate image editing tool such as Paint or Adobe Photoshop.
Another notable feature of URL2JPEG is its manual capture mode. If you do not want to take a screenshot of the entire webpage, you can just capture a certain section or area such as the webpage header or footer. All you need to do is to switch from capture full page mode to manual mode (capture manual zone). In this mode, you can make use of the select tool to highlight the area that you want to capture.
As for the Scripting tab, it's basically meant for advanced users who can work with scripts. This section is intended for you to load scripts in XML format so that you can take multiple screenshots of a certain webpage or website. The Settings tab, on the other hand, is meant for you to set your preferred language. As of now, URL2JPEG currently supports more than ten languages which include English, French, Italian, Japanese and Korean.
All in all, I could say that this tool could benefit a lot of users especially those whose tasks are related to website development and design. It's just a downer that this tool doesn't support multiple tabs so you can only process one screenshot at a time. Anyways, this is just a minor issue. So far, I haven't encountered any serious problem with URL2JPEG.
Conclusion and Download Link
Taking screenshots is no longer an art; it is a science — there are dozens upon dozens of programs, free and paid, that can take screenshots. However, taking screenshots of scrolling webpages is a feature you only find in the best of the best screenshot programs. While URL2JPEG isn't a screenshot program in the traditional sense (it is only for taking screenshots of websites and won't work with anything else), it does give you this premium feature of capturing scrolling webpages without you having to pay a dime. Overall, it is a great program that serves its purpose well.
That said, do I recommend this? If you need the ability to screenshot websites on a regular basis and your current screenshot program doesn't have scrolling website capture features and/or doesn't properly capture scroll websites, then yes grab URL2JPEG. On the other hand, if you already have a screenshot program that supports capture of scroll websites and does it well… then obviously there is little need for URL2JPEG.
Also be sure to read dotTech's review of best free screenshot programs for Windows.
Price: Free
Version reviewed: 1.1
Supported OS: Windows 98, 2000, XP, Vista, Windows 7 and 8
Download size: 404KB
VirusTotal malware scan results: 0/49
Is it portable? No
Related Posts