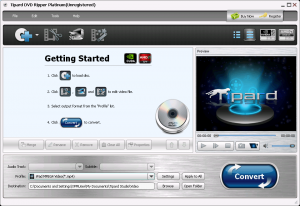 Need to rip or convert your DVDs to a non-DVD video format? That is where DVD rippers come in; they allow you to rip/convert your DVDs to other video formats. dotTech has a review of best free DVD (and Blu-ray) rippers for Windows but if you aren't happy with our selection, then Tipard DVD Ripper is another option. Let's see if it is worth your time.
WHAT IS IT AND WHAT DOES IT DO
Main Functionality
Tipard DVD Ripper is DVD ripper. It allows you to convert/rip DVD discs, DVD folders, and ISO files to other video or audio formats.
Take note there are two versions of Tipard DVD Ripper, Platinum and Standard. Standard does everything Platinum does except Platinum has three extra features: ability to convert 2D videos to 3D, ability to clip input files into separate segments, and ability to easily switch to a different input file when using the editing features.
Disclaimer: You are allowed to use the software mentioned in this review only within the laws of your country/region. dotTech and its staff will not be responsible for any illegal behavior.
Pros
Rips DVDs and converts to other video and audio formats
Supports DVD discs, DVD folders, and ISOs as input
Can bypass DRM: "CSS, Region, RCE, and Sony ARccOS", according to the developer
Supports many output formats plus has output profiles for specific electronic devices (see chart to right for more details)
Supports batch processing

When batch processing, each input DVD can be set to a different output format with its own customized settings (i.e. all input files need not be converted to the same output format with the same output settings)

Users are given full control over output settings, such as bitrate, resolution, codec, etc. Plus, users are allowed to manually input a custom resolution if there isn't an option in the drop-down that you like.
Has basic editing capabilities: crop; clip (Platinum edition only); modify brightness, contrast, saturation, and hue; enable deinterlacing; add a text or image watermark; modify volume level; disable volume totally; and enable 3D (Platinum edition only)
Can merge input DVDs together into one output
Can convert 2D DVD -> 3D
Has the ability to make use of all the cores of your dual-core or quad-core CPU
Supports NVIDIA CUDA and AMD APP GPU acceleration
Can take screenshots of videos and save screenshots as JPG, BMP, and PNG
Performs well (fast and good output quality)
Has the ability to automatically shutdown computer after conversions have been completed
Easy to use
Cons
Does not have the ability to store/output DVDs in original loseless DVD format such as DVD folder or ISO, meaning you can't use this program for true DVD backups nor can you use this program for loseless reburning DVDs to disc because it doesn't support DVD -> original loseless DVD format.
Cannot bypass latest Disney X-Project DRM
No "keep original resolution" option, for those that want their DVDs to retain their original DVD resolution/aspect ratio but just be in a different video format

Note: The lack of "keep original resolution" isn't that big of a deal because the program allows you to type in any custom output resolution you desire. So if you really want your DVDs to retain the same resolution when converted to other formats, you can manually type in the original DVD resolution.

Developer claims you can trim input files with this program but it isn't very clear how to trim. I, for one, couldn't figure it out.

Note: Trimming is different from clipping. Clipping in Tipard Video Converter allows you to break an input file into separate segments, with each segment being its own output file. Trimming, in theory, would allow users to tell Tipard Video Converter to only convert a specific portion of the input file. However, there is no obvious way on how to use trimming. You can, of course, use clipping as a method of trimming if push comes to shove but clipping is only available in Platinum (not available in Standard) while trimming is supposedly available in both Platinum and Standard.

The output profiles for specific electronic devices are not always up-to-date and are lacking when it comes to Android and Windows Phone devices (e.g. has a profile for Samsung Galaxy S II and Galaxy Note but not Samsung Galaxy S III, IV, and Galaxy Note II)
Discussion
If you've ever used a DVD ripper before, you will find no surprises in Tipard DVD Ripper. It is pretty much like most other shareware DVD rippers; it allows you to convert DRM-protected DVDs to other video formats, supports basic video edits, has many output formats for you to select from, and works well. Indeed there really isn't much to discuss about Tipard DVD Ripper that we haven't mentioned already vis-a-vis out Pros and Cons section… except for one point.
When it comes to DVD ripping/converting/backing up, there is a hierarchy of important features:
Can it bypass DRM protection/region locks?
Can it rip/backup to DVD folder or ISO?
Can it rip/convert to other video formats?
Of these three features, the first one is the most important because if a DVD ripper cannot bypass DRM protection, its useless is very limited. The second most important feature is being able to rip/backup to DVD folder or ISO. Why? Two reasons:
Being able to rip/backup to DVD folder or ISO means you are storing your DVDs in loseless DVD format — allowing you to easily view the DVD in a loseless format and/or reburn to disc at any time without loss of quality, something you cannot do if you rip/convert DVDs to other video formats.
If you want your DVDs in other video formats, you can easily throw your DVD folder or ISO into a freeware video converter, and convert to a different video format… while still retaining the loseless DVD folder/ISO for reburning purposes. In other words, when used in combination with a video converter, you get the best of both worlds.
The third most important feature is obviously being able to rip/convert to other video formats, but, as I just mentioned, this feature isn't nearly as important as the other two features.
Tipard DVD Ripper can bypass DRM protection (except of Disney X-Project), so it passes the first requirement. Unfortunately, however, Tipard DVD Ripper cannot rip/backup to DVD folder or ISO — it only allows ripping/converting to other video formats. While being able to convert DVDs to other video formats has a use in and of itself, being able to rip/backup to DVD folder or ISO is much more useful and desirable as I just pointed out. So the fact that Tipard DVD Ripper cannot do it is potentially a deal-breaker.
CONCLUSION AND DOWNLOAD LINK
Tipard DVD Ripper is good… but not great. Because it lacks the ability to rip/backup to loseless DVD folder or ISO formats, its usefulness is limited. You are more than welcome to get Tipard DVD Ripper if you want (they offer a trial, so always try before you buy) but I don't recommend it. Instead, my recommendation is the following
If you are willing and able to spend money to purchase a DVD ripper, I have yet to come across a DVD ripper that is better than WinX DVD Ripper Platinum. WinX DVD Ripper Platinum works well, it bypasses more DRM protection than any other DVD ripper, it can rip/backup DVDs to ISO, and it can rip/convert to other videos formats.
If you are not willing or are unalbe to spend money to purchase a DVD ripper, no worries because dotTech has a review on the best free DVD (and Blu-ray) ripper for Windows. Our top selection in that review is DVDFab HD Decrypter which, when used in combination with any freeware video converter, offers you features to fulfill all your DVD ripping/backing up/converting needs — without paying a cent.
Price: $40 (Standard), $45 (Platinum)

Version reviewed: 6.2.19
Supported OS: Windows XP, Vista, Windows 7, and Windows 8

Download size: 23.9 MB

VirusTotal malware scan results: 0/46
Is it portable? No
Related Posts