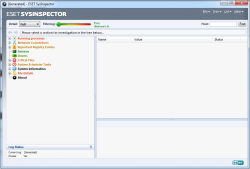 Ever use your computer only to find it behaving a bit odd? Maybe it is running slower than normal, some programs aren't opening, your screen is screwing up, etc. It can often be difficult to find out why your computer is acting up. That is why computer diagnostic tools were created. ESET SysInspector is one such diagnostic tool. Let's see if it is worth your time.
What Is It and What Does It Do
Main Functionality
ESET SysInspector — created by ESET, the company behind the popular NOD32 antivirus security suite — is a program that scans your computer and looks for "suspicious behavior" (e.g. malware, viruses, rootkits, etc.). It provides you with a list of what it has found, organized in tree format for each navigation, and you then take a look and try to identify any files, components, etc. that may be suspicious.
Pros
Scans your whole computer and captures information about all running processes, network connections, important registry entries, services, drivers, critical files, scheduled tasks, and files related to running processes/connections/drivers
Provides you with information about your system itself, e.g. Windows version, installed software, installed Windows updates and hotfixes, etc.
Uses ESET Anti-Stealth technology to find and identify hidden objects, like rootkits
After scan, runs heuristics on everything it has found and ranks every item on a scale of one to nine based on how risky it is (with nine being most risky)
Allows you to easily filter results based on riskiness and by Microsoft and non-Microsoft items
Has a built-in search tool for searching results
You can export results into a log that can be shared with others that are helping you troubleshoot, if you are not tech-savvy enough to understand the results yourself
When exporting logs, you have the ability to exclude private and personal information from being included in logs
You can compare two logs to each other
Is portable
You don't need ESET's paid security software, like NOD32, to use ESET SysInspector — ESET SysInspector is a standalone program that works with and works without NOD32
Cons
Is a bit slow in scanning, although speed does increase after the first scan
You cannot easily run a rescan — no refresh button inside the program, you need to close/reopen it to run a new scan
Requires a certain level of tech knowledge to understand what ESET SysInspector gives you
You can definitely experience data overload, although that is to be expected with a program like this
ESET SysInspector claims that it also scans for startup items but I did not find any analysis of startup items. Maybe I missed it?
Is nothing new; functionality such as this has been around for years, such as HijackThis
Discussion
ESET SysInspector is not an anti-virus, anti-malware, anti-rootkit, etc. program. ESET SysInspector is a diagnostic tools that scans your whole computer and returns to your information about important components such as the registry, running processes, network connections, and more. The idea here is to help you identify files, objects, processes, etc. that are suspicious, which then helps when troubleshooting; that includes troubleshooting when some component on your computer is glitchy and troubleshooting when you are infected with malware, viruses, rootkits, etc.
Although it does rank items based on level of riskiness, ESET SysInspector provides you with information on what is found on your computer — it doesn't really help you decide what is safe to remove and what isn't safe to remove. It is up to you to decide what to do with the results ESET SysInspector gives you; you need to be knowledgeable enough to understand the results to make use of ESET SysInspector. On the bright side, ESET SysInspector has an export log ability that allows you to share your results with others, others that may have more knowledge than you. So just because you may not be tech-savvy doesn't mean ESET SysInspector is useless for you — you can use it for troubleshooting when seeking help from others.
That said, using ESET SysInspector is very easy. Simply run the program, wait while it scans your computer, and then sort through the data it gives you. Scan results are sorted by category and in hierarchical tree format, so viewing the results isn't too difficult although there is definitely going to be information overload. To help with this information overload, ESET SysInspector provides various different methods of filtering. You can filter by level of riskiness, filter by Microsoft and non-Microsoft components, and search for explicit items.
When ready, you can export the search results into a log, which can be either be saved for viewing later or can be shared with others (if you are getting help with troubleshooting). It is as easy as that.
Conclusion and Download Link
ESET SysInspector is one of those programs you hope to never have to use but should keep in your set of emergency tools, in case you ever do need to use it. There aren't very many issues with the program itself but rather you should take note of an issue that all diagnostic programs have: you need relevant tech knowledge to understand the information they give you. The good thing is ESET SysInspector can export results for you to share with others, so even if you don't understand what it is telling you, chances are someone else will.
Overall, ESET SysInspector is a must-have download if you don't already have a tool that provides you this diagnostic functionality.
Price: Free
Version reviewed: 1.2.042.0

Supported OS: Windows XP, Vista, Windows 7, and Windows 8

Download size: 3.6 MB

VirusTotal malware scan results: 0/48

Is it portable? Yes

Related Posts