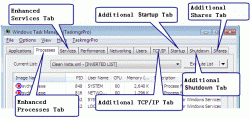 Nowadays it is the age of plugins. Plugins for your browsers, plugins for your software, plugins for this, plugins for that. So why not get a plugin for something you probably use very often to enhance its functionality — Windows Task Manager? And that is exactly what TaskmgrPro is. Let's see if it is worth your time.
What Is It and What Does It Do
Main Functionality
TaskmgrPro is a plugin of sorts for Windows Task Manager; TaskmgrPro enhances Windows Task Manager functionality by adding features to the Processes and Services tab of Task Manager and adding four new tabs to Task Manager. Plus TaskmgrPro is run when Windows Task Manager is run.
Pros
Works as a plugin for Windows Task Manager, so all you need to do to access TaskmgrPro is run Windows Task Manager (e.g. vis-a-vis Ctrl+Alt+Del or Ctrl+Shift+Esc)
Enhances Processes tab in Windows Task Manager, allowing you to end multiple processes at a time
Allows you to create "kill lists" which batch kill all processes in the list
You can also use the kill lists feature to batch resurrect processes in the list
Enhances Services tab in Windows Task Manager, allowing you to batch start, stop, pause, or continue services plus change their startup mode between automatic, manual, disable
Includes a list feature for services, too, allowing you to batch start/stop services in the list
Adds a TCP/IP tab to Task Manager, which displays TCP/IP connection info
Adds a Startup tab to Task Manager, which displays startup programs/processes, allowing you to enable/disable them
Adds a Shutdown tab to Task Manager, which allows you to schedule you computer to automatically shut down, restart, log off, lock, lock and turn off monitor, turn off monitor, or launch screensaver at a specific time or in X minutes
Adds a Shares tab to Task Manager, which displays network shares and allows you to enable/disable and add/remove them
Not too bad on computer resources — roughly 3 MB RAM and little to no CPU while idle
Cons
Startup manager is basic — can only enable/disable or delete existing items, cannot add new items nor can delay startup items
TCP/IP displays TCP/IP information but doesn't allow you to end specific connections, although you can go to the associated process and end that process if desired
It would be nice if the process kill list could be automated, meaning the processes on a kill list automatically ended as soon as they started. Right now, you need to manually trigger a kill list.
Hasn't been updated in over 1.5 years, was last updated Jan 2012 — meaning development is either dead or very slow
Is a plugin for Windows Task Manager… so what happens if TaskmgrPro itself freezes — does Windows Task Manager freeze along with it? My guess is no because TaskmgrPro loads one to two seconds after Windows Task Manager (meaning if TaskmgrPro freezes it shouldn't affect Windows Task Manager), but that is just a guess.
Hasn't been updated since before Windows 8 was released, so it likely doesn't work on Windows 8
Discussion
TaskmgrPro enhances Windows Task Manager functionality; it is built right into Task Manager and adds features you wouldn't otherwise get in Task Manager.
What I like best about TaskmgrPro is how it allows you to kill multiple running processes at the same time; simply select multiple running processes from the Processes tab and end them. Sure, TaskmgrPro isn't the first and only program to allow this functionality — e.g. WinPatrol can do it, too — but what makes TaskmgrPro so much more useful than rival programs in this regard is how TaskmgrPro is built right into Windows Task Manager. So, essentially, you don't need to learn or launch a whole new program to be able to kill multiple processes at the same time — you just launch Windows Task Manager as normal and simply kill running processes as desired from the Processes tab. Easy.
I also really like the Shutdown tab, which doesn't provide unique functionality but makes it very convenient to schedule a shut down/restart/etc. of your computer.
That said, however, I feel the other functionality of TaskmgrPro is either out-of-place or too basic. For example, you don't really need a startup manager or network shares manager in Windows Task Manager; Task Manager is a place that displays information/provides features you would need access to on a regular basis, and most people don't use a startup manager or network share manager regularly — only once in a while. So TaskmgrPro just ends up cluttering the Task Manager by adding unnecessary features.
Conclusion and Download Link
I really wish it was possible to customize TaskmgrPro to only get the features that one wants (e.g. if I were able to customize TaskmgrPro, I'd remove the startup/network share managers) but that isn't possible. So, as of now, I'm not going to recommend TaskmgrPro but I'm also not going to not recommend it. In other words, I'll let you decide if you want the program or not. I've given you all the information to make an educated decision… so have at it. Best of luck.
For those that are looking for freeware alternatives to TaskmgrPro, I don't know of any programs that build themselves right into Windows Task Manager but there are programs that provide the same or more functionality as TaskmgrPro: WinPatrol allows you to kill multiple processes at the same time, manage services, and has a better startup manager; ProcessTamer and Process Lasso are two a processes managers that allow for better process management than TaskmgrPro, such as the ability to automatically kill blacklisted processes; ShareWatch is a network shares monitor or you can use Windows' built-in functionality for network shares management; Shutdown Please allows you to schedule shutdowns, etc. or you can do it yourself from Windows Task Scheduler; etc.
Price: $19.95

Version reviewed: 1.4.5

Supported OS: Windows XP, Vista, Windows 7

Download size: 3.3 MB

VirusTotal malware scan results: 0/47

Is it portable? No

Related Posts