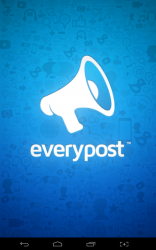 There are so many social networks out there now, that it can be a hassle just making regular status updates. A lot of times you end up favoring one network over others, and that leads to you neglecting a network too. Call it pretentious, but wouldn't it be great if you could update all of your networks at once and be done with it? Everypost is a social application for Android that allows you to do just that. Through one convenient update you can post to different social profiles like Facebook, Twitter, Google Plus, Pinterest, Tumblr and more.
What is it and what does it do
Main Functionality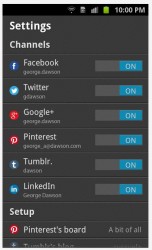 As the name implies, Everypost allows you to post to pretty much every social network at once. There are multiple reasons why you would want to, and of course there are folks that don't even like to post to one network. Obviously, if you don't like social media then this app is not for you. In addition, it includes several tools to enhance the posting experience like URL and text shorteners for Twitter, and more. Furthermore, there are absolutely no limits on posting.
Pros
Post to all of your social accounts at once, or pick and choose
Supports all major social networks including Facebook, Twitter, Pinterest and more
Add photos, videos and music to your posts
Text and URL shortener tools for Twitter, and a useful tool for posting tweets longer than the character limit
Offers quick access buttons for mentions and hashtags
Cons
Uses 21MB of RAM while running
Discussion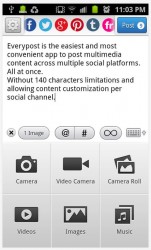 When you first load the application it will take you through a quick tutorial of sorts. It doesn't actually explain how to use Everypost, it really just tells you what you can do with it.
After that, you'll be sent to the main screen which looks a lot more complicated than it really is. You can compose your status update in the big blank space. Below that, you can add media using the camera, gallery and more. At the very top are buttons to choose which social network you'd like to post to. What networks can you post to? Here's a complete list:
Facebook
Twitter
Google Plus
Pinterest
Tumblr
Linkedin
Flickr
Dropbox
Email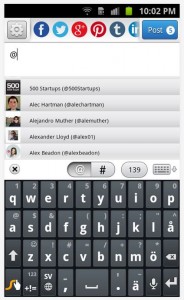 Through the app settings you can sign-in to the various networks and enable them. Just because you're signed in doesn't mean you have to post to all the networks though. Like I said above, you can pick and choose which accounts to update.
There are special buttons for including Twitter mentions and using hashtags. Better yet, when posting to a bunch of networks at once you can shorten the text for Twitter. It will include everything up to the character limit and then add a link to a unique user profile through Everypost. Someone that wants to read the whole tweet can follow through to your profile and see the whole message. It works almost exactly like the tweet longer service.
There's really not much else to say about it. Despite how it may seem at first glance, it's a pretty simple app and it works great. Personally, I find it's much easier to just update a bunch of networks at once instead of sorting through them all individually.
Everypost uses about 21MB of RAM while running.
Conclusion and download link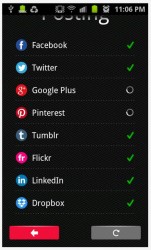 Everypost is a convenient application that allows you to update all of your social network accounts at once. You can even include photos, videos and music if you so desire. The full list of supported networks is above, but all of the major platforms are included. The app offers text and URL shortening for Twitter which is great, because it helps you stay under the character limit. You can also create longer tweets which are displayed and hosted on your Everypost profile. It works like tweet longer where the content is included up to the character limit, and a link allows interested parties to view the rest of the message which is hosted elsewhere. You can sign into all of your accounts, and then pick and choose which networks you would like to post to- so you always have full control. If you're tired of posting to various social networks separately, then this app might help you out.
Price: Free
Version reviewed: 1.1.2.5
Requires: Android 2.2 and up
Download size: 11MB
Related Posts