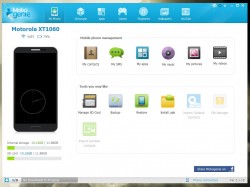 Google Play now allows you to manage several devices however you're very limited to what you can do. From a computer you can install apps, wipe your data, track your device's location and more. What if you want to do a lot more than that though, like manage contacts, preview and set wallpapers, or even read text messages. You can turn to an app called Mobogenie. It is an impressive Android device manager for Windows, with a couple pretty big limitations. First, you must connect your device through USB. Second, you must have a rooted device to take advantage of all the features.
What is it and what does it do
Main Functionality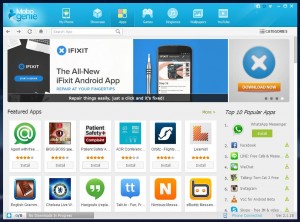 Mobogenie is an Android device manager for Windows that allows you to edit nearly every aspect of your smartphone or tablet. You can search for and install apps right from your desktop, preview wallpaper and apply it to your homescreen, import or export personal photos stored on the device and much more. Of course, you will need a rooted device in order to use it properly and you'll have to connect the device to your computer via USB.
Pros
Manage every aspect of an Android device

Manage contacts, import/export them and backup data
Read and reply to SMS
Manage installed apps, and download new ones to your device
Manage ringtones and music, and acquire more
Preview and apply wallpaper
Manage personal pictures and videos on the device

Install third party .apk packages
Watch YouTube videos natively inside the app
Cons
Requires a rooted device in order to use all the features
Doesn't work over Wi-Fi, you need to connect your device via USB
Uses about 214MB of RAM while running, which is quite a bit even for a Windows program
Discussion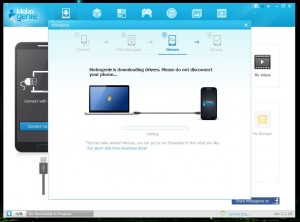 When you launch Mobogenie and connect your device via USB, the app will recognize it automatically. You do need to have USB debugging enabled in the developer options. Additionally, it will begin to download and install the necessary drivers if you don't already have the proper ones installed. To get the app to work with my Moto X, it took a little extra finagling on my part. I had to uninstall, clean and reinstall drivers. It wasn't a serious issue, it's just worth noting because others may encounter problems with their own device.
What can you do exactly? Well the interface is separated into multiple tabs, all of which offer pretty straightforward options. From left to right you have my phone, showcase, apps, games, ringtones, wallpapers and YouTube.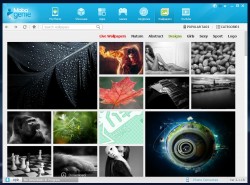 On the 'my phone' tab you have access to all of the management options for your device. You can manage contacts, SMS messages, installed apps, music, pictures and videos. You can also manage the SD card, backup data, restore data, install a third party .apk package, import Outlook contacts, browse files, or import Symbian contacts.
What I find particularly interesting is that you can completely customize your device through Mobogenie. You can select and apply wallpaper, ringtones and even install apps. I also find the remote SMS tools useful, because I'm always on my computer. Instead of picking up my phone to reply to text messages I can do it right on my desktop, provided my phone is connected.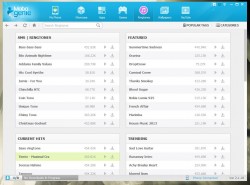 Of course, there are plenty of remote SMS tools and apps out there, but none that offer the kind of comprehensive functionality that this app does. While using it I was continuously impressed by the things that you can do and how well they work.
If you just got a new Android device, you can even import contacts from Symbian or Outlook. Of course, you'd need to figure out how to root your device first, but that's beside the point.
Mobogenie uses about 214MB of RAM while running, which is remarkably high- no it's almost unbearably high. When you consider the fact that it natively runs YouTube (and plays videos), as well as allows you to quickly browse media like ringtones and wallpapers, it makes sense why so many resources are used. Keep in mind, I'm not excusing the amount, I'm just saying I can see why it's that high.
Conclusion and download link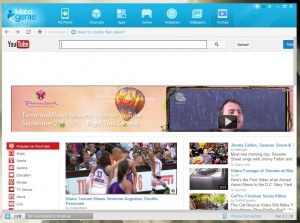 Mobogenie is a comprehensive management tool for Android devices. You can customize and edit just about every aspect of your device from wallpaper, all the way to contacts and text messages. You will need a rooted device in order to use it properly, and it needs to be connected via USB to your computer. Unfortunately, there's no support for wireless or Wi-Fi functionality at this time. Furthermore, 'USB debugging' needs to be enabled in the developer options. That being said, it's a great desktop tool for personalizing and setting up your device. First time Android users can even import contacts from Outlook or Symbian. It does use a considerable amount of resources though, at 214MB of RAM. Considering you can browse wallpapers, preview ringtones and even watch full-fledged YouTube videos through the interface the RAM usage does make sense. That's no to say it's excusable, but it does add up.
Overall, if you own an Android device, then Mobogenie is worth checking out.
Price: Free
Version reviewed: 2.1.18
Supported OS: Windows 8/7/Vista/XP, any Android device

Download size: 16.6MB
VirusTotal malware scan results: 0/48
Is it portable? No
Related Posts