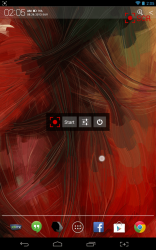 When you're trying to show others an example of something, screenshots definitely help. You can really show someone how to use a device or OS with the right kind of screenshots. What's even better than pictures though? Videos or more specifically screencasts. SCR Screen Recorder is an Android application that allows you to capture screencasts directly on your device. It runs on devices running Android 4.0 (ICS) or higher and requires root access.
What is it and what does it do
Main Functionality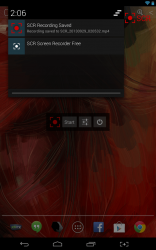 SCR Screen Recorder not only offers support to capture screencasts of your device, it also offers advanced functionality. For example, it includes support for Tegra and other high-powered devices. While recording it displays a very minimal interface, so that you can still keep track of what's happening on the screen. You can choose the video output resolution, file format, target frame rate, and more. You can also choose whether you want the CPU or GPU handling the brunt of the recording working. Of course, that also depends on whether or not your device has a dedicated GPU.
Pros
Screencast recorder for Android devices
Very minimal menu that leaves the screen free
Customize the video output resolution, file format (H264, MPEG-4 SP, H263), target frame rate and more
Enable or disable visual feedback display (small dot appears when and where you touch the screen)
Choose storage directory for recorded screencasts
Uses about 16MB of RAM while running
Cons
Requires root access with Superuser apps installed
Must have a device running Android 4.0.3 or higher
The free version only records for up to three minutes max, and all videos have a watermark in the top right corner
Discussion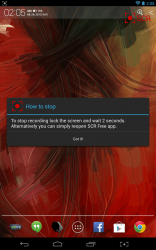 The first thing you should know is that the free version has a couple limitations on use. To be honest, that's to be expected. The developers make money by adding exclusive features to a premium version, which I have no problem with. That being said, I don't like when there are so many limitations in the free version that you cannot use it. That is not the case here, however you are still limited. For example, you can only record up to a maximum of three minutes per screencast. In addition, a watermark is imprinted on the output file in the top right corner (it shows up as the app icon alongside the text 'SCR'). This is not an issue for quick personal use, but if you need screencasts for broadcasting or something like that you should purchase the premium version for $6.14.
Right when you start the app it will request root access on your device through whatever Superuser app you have installed. Obviously, you need to grant the app admin access in order to use it properly. A small menu will appear that includes start, settings and exit buttons. In the free version you'll also notice the permanent watermark displayed in the top right corner of the screen. Additionally, there's a notification icon displayed in the system tray.
Tapping on start will begin the recording session, while tapping on the quit button (in the form of a power symbol) will close SCR completely. The app settings offer a lot of customization concerning the video that's produced. You can change the resolution (up to the max offered by your device), file format, bitrate, target frame rate, audio sampling rate and more.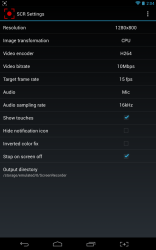 To stop capturing a video, you can either lock the screen for two seconds or you can reopen the SCR app after you've started recording.
By default, SCR will display a small cursor or dot where you touch the screen. This is designed to show visual feedback, and it even appears in the screencasts when enabled. You can turn this feature off however, if you'd much rather have no visual feedback displayed. The app is also pre-configured to stop video recording as soon as the screen is turned off. If you want it to continue, you can disable the associated setting.
Of particular import is the fact that you can designate the storage directory for the produced video files. I say this is important because it allows you to conserve space on internal storage if your device uses an SD card. You can also use this setting to see where the files are actually stored. They all show up in the stock Android gallery of course, so if you just want to watch them on your device that's the most efficient way to do it. Otherwise, you'll have to take note of the storage directory and move them onto a computer.
The videos turn out quite well, and the quality is top notch. Audio is also recorded through the mic if you want to narrate the screencast. As I already mentioned, you cannot make long recordings with the free version. It only allows for three minute recording intervals max.
SCR Screen Recorder uses about 16MB of RAM while running.
Conclusion and download link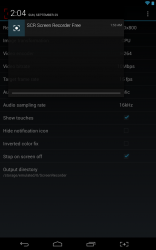 SCR Screen Recorder is a screencast app for Android devices. You will need a rooted device with Superuser access in order to get it running right. When you start the application, it will display a small and very minimal menu on screen. This allows you to go about your business while recording, without any visual menus taking up the screen real estate or getting in the way. You can also customize several parameters about the exported video like resolution, format and target bit rate. The free version of the app only allows you to produce screencasts up to three minutes in length. It also adds a watermark to all videos created. The limitations can be easily removed by purchasing the premium version of the app for $6.14.
Price: Free
Version reviewed: 0.10.2-beta
Requires: Android 4.0.3 and up
Download size: 405KB
SCR Screen Recorder on Play Store
Related Posts