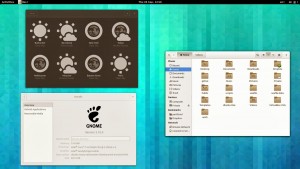 Like Gnome 3.8 but interested in upgrading to the newest version? This guide will help you! In no time at all, you'll be running the latest an greatest version of Gnome (3.10). Let's get started!
Before We Begin
As Ubuntu 13.10 is still in beta, doing this procedure is extremely risky. Only upgrade Gnome on 13.10 if you know what you're doing.
This guide is accomplished by adding a few software repositories, including an unstable one. Note that sometimes Gnome may break (though it's not very likely).
This guide is accomplished with a terminal. Open a terminal window by pressing alt + f2 and typing xterm, or searching Gnome's activities for 'terminal'.
This guide will only work on Ubuntu 13.04+.
How To Upgrade Gnome 3.8 to Gnome 3.10 On Ubuntu 13.04
Several Gnome-related software repositories need to be enabled in order for Gnome to be updated. Enter the following commands below in the terminal to enable them.
sudo add-apt-repository ppa:ricotz/testing
sudo add-apt-repository ppa:gnome3-team/gnome3
sudo add-apt-repository ppa:gnome3-team/gnome3-staging
After enabling all of the needed software repositories, Ubuntu needs to be updated to reflect these changes.
sudo apt-get update
 Once the new software PPAs are enabled and the software sources have been updated, the old Gnome 3.8 packages can be updated to the 3.10 versions.
sudo apt-get upgrade
Done!
Conclusion
Gnome 3.8 is a great release from the Gnome team, but 3.10 is a lot better, adding new features and settings that improves the overall experience. Enjoy!
Related Posts