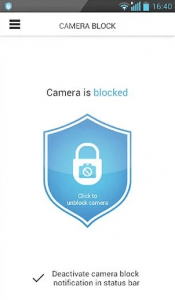 Even if it feels totally cool to have an app that could easily snap, edit and upload your photos to various photo sharing communities, you shouldn't let your guard down. After all, the Play Store is already flooded with lots of photo editors and camera replacement apps. Therefore, you need to be extra cautious of the apps that you are going to install. Some of them might just unknowingly use your phone's camera and take a snap of your surroundings even without your permission. Before this happens, you might as well try this app called Camera Block.
What Is It and What Does It Do
Main Functionality
Camera Block is a free camera blocker app for Android. If you have this app, you will be able to temporarily block the access to your phone's camera. This can be done in just a single click of a button. Just launch the app from your app drawer or home screen then tap its locker or lock icon. If your phone camera is blocked, the app will show a blue lock icon. If it's unlocked, the app will show an orange lock icon. It is also important to note that this app can also block other apps from using your camera. So if you enable this app, you won't be able to take photos or videos via Line, Instagram, Facebook, Vine, etc.
Pros
Very neat and responsive UI, easy to use
You can easily switch the color of your app's template to Obi-Wan Kenobi (white background) or Dark Vader (grey background)
Features a simple widget that you can place on your home screen
You can block or unblock your phone's camera in just one click – the blue icon means that your phone's camera is blocked while the orange icon means that your phone's camera is active or unblocked.
Automatically scans your device for apps with camera permission – ex. Instagram, StreamZoo, Face Swap, Facebook, VIberr, KakaoTalk, Hangouts, etc.
Features two stylish notification icons – you can also opt to show or hide these icons from the status bar
Support both front and rear cameras
Low battery consumption – can only consume less than 1% of battery in Android 4.0 and around 2% of battery on devices with older Android OS versions
Cons
Once enabled, this app will affect all of the apps that you've installed with camera permission. There is no option wherein you can individually set the camera block settings for each application.
You cannot set a password to lock the app so it can still be turned off by those who can control your phone using a remote access software
You can only use the free version for a maximum of 20 hours per day and it will be automatically turned off between 20:00 – 22:00 P.M. If you want to lift this restriction, you will need to purchase the Pro version of the app for $1.99.
Discussion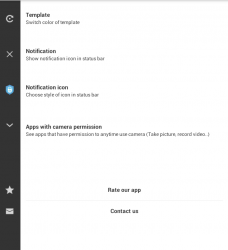 Camera Block is a pretty simple and straightforward app that requires very little configuration. Once you've successfully installed the app to your Android device, just launch it from your app drawer and then it will immediately scan your device for apps with camera permission. After this, the app will also ask you to choose your preferred template. If you prefer a template with a lighter background, you can choose Obi-Wan Kenobi. If you prefer a template with a darker background, you can choose Dark Vader.
Another good feature of this app is that it has a home screen widget. Just add the widget to your home screen and you will immediately see the current status of your camera blocker app. This option is quite useful especially if you don't want to show the app's notification icon on the status bar.
With Camera Block, you do not need to know a lot of complicated settings. Just keep in mind that if it shows a blue lock icon that means your camera is blocked. If it shows an orange icon that means your camera is unblocked. When your camera is unblocked, that gives anybody a chance to take photos or record videos using your camera phone. This is usually done by spies or hackers. Some people do this just for fun.
Having an app like Camera Block is quite useful especially if you are not really paying attention to the credibility of the apps that you're installing on your smartphone. Who knows? You might get an app that would request for camera access when in fact, it's only function is to convert your songs into ringtones. These are the type of apps that will secretly use your device camera to take snapshots and videos. Apparently, this can be easily done even without your knowledge or permission.
While I don't have any serious with this app, I still think that it could become even better. It would also be nice if this app has an option for managing the applications with camera permissions. This way, you can easily choose the apps that you want to block from using your phone's camera.
Conclusion and Download Link
The free version of Camera Block may have some limitations but it is reliable enough to protect you from any unauthorized user who will attempt to access and use your device camera. It has some downsides but it also has enough good points to warrant a recommendation. Check it out.
Price: Free – users can upgrade to Pro for $1.99
Version reviewed: 1.03
Requires: Android 2.2 and up
Download size: 611KB
Camera Block – Spy protection on Play Store
Related Posts