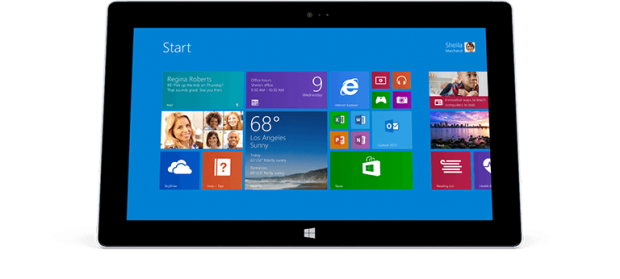 Delta Airlines plans to purchase 11,000 Surface 2 tablets from Microsoft for its pilots. Apparently, the airline wants to replace paper flight books, and the best way to do so is to equip each and every pilot with a Surface 2 tablet. Now, it is likely this is one big marketing spin orchestrated by Microsoft since American Airlines chose to run with the Apple iPad for its pilots.
According to AllThingsD, the deployment of the Surface 2 tablets will begin later this year for pilots who fly the 757 and 767 aircraft. The goal at the end of the day is to have all pilot cockpits paperless and more futuristic. Pilots will have access to reference documents, charts and other information via the Surface 2 tablets.
Take note these appear to be Surface 2 tablets — the Windows RT version — that will run custom Delta software and not Surface Pro 2 tablets (the Windows 8 Pro version).
Delta Airlines believes it can save up to $13 million in fuel cost by ridding the cockpits of paper manuals. In addition, the company seems to have a great relationship with Microsoft since it equipped 19,000 flight attendants with a Nokia branded Windows Phone device in the past.
We view this as a win for Microsoft, though it would have been so much better if every seat in a Delta Airline aircraft came equipped with a Surface 2 tablet for passengers to play around with while in flight.
[via AllThingsD]
Related Posts