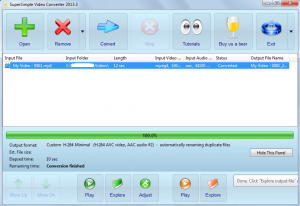 With the help of a video converter, you can easily convert videos into different formats. So instead of finding a media player that could only play a particular audio or video file, you can just convert your video into a format that is currently supported by your media player. Speaking of which, SuperSimple Video Converter can do more than just converting your video into AVI or MP4. It can also convert your videos into a format that is most suitable for your tablet or mobile phone.
What Is It and What Does It Do
Main Functionality
Created and developed by Gromada, SuperSimple Video Converter is a free media transcoder for Windows. Thus, aside from converting videos into various formats, it can also prepare and optimize your videos for web upload. Not only that, this software can also extract audio from movies and music videos. Plus, it can also convert your video files into a format that you can easily play on your mobile device. To convert a video, all you need is to add and select the file that you want to convert and then you click on the "Convert" button. After that, you can choose the type of output format that you want. The output format doesn't necessarily need to be a 3GP, AVI or MP4 file. You can also convert and save your video as MP3, OGG, WMA, MKV, MOV, FLV, etc.
Pros
Neat and user-friendly interface, large icons
Converts your video into different formats – as of now, SuperSimple Video Converter supports the most commonly used audio and video formats such as MP4, WebM, MKV, AVI, MOV, 3GP, OGV, WMV, MPEG, FLV, RealMedia, MP3, OGG, AAC, WMA, MP2, AC3, RA, FLAC and WAV
Prepares your videos for web upload – Before you upload your videos to YouTube, DailyMotion, Vimeo or Facebook, you can use this software to make sure that it's in its proper format and resolution
Can extract audio from movies and music videos
You can set a custom output format for your videos – this option is great especially if you want to convert your videos faster than the software's default conversion speed
You can format your video files as DVD NTSC/PAL, MKV, DivX, XviD, etc. so that you can play them on your DVD player or set-top box
You can choose to convert only a part of your entire video file; you can also adjust the audio volume of your converted file
Supports hot keys plus you can play both of your input file as well as your converted file
Cons
This software cannot directly download and convert a video from a particular website or URL (it isn't a video downloader, which it doesn't claim to be but some video converters are, so this is being mentioned)
You cannot rename the converted video before saving it to your computer
Discussion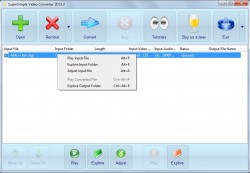 What's great about SuperSimple Video Converter is that it can easily convert your video files into various formats. By default, this software can convert a high-quality video at a reasonable speed but if you want to convert your video faster, you can customize its format and resolution but it will certainly affect the video quality.
Another good thing about this software is that it supports almost all types of audio and video formats so it makes it easier for you to convert your video files to AVI, WMA, MP4, FLV, MPEG, WMV, etc. You can even make use of this software to extract the audio from your music videos and movie files. This will come in handy especially if you need to get some audio effects from your favorite movies. You could also use this software to extract the songs from your favorite MVs.
As I've already mentioned above, SuperSimple Video Converter is more than just a converter. This is because it can also format your videos in such a way that they would be easier to upload to various online video portals such as YouTube, DailyMotion and Vimeo. If you are uploading your video to YouTube, you can use this tool to set your preferred video resolution. You could set your video in 360p, 480p, HD and even in FullHD. If you want to save your videos in DVD, you can also do so since this software has the ability to format your videos into DVD NTSC/PAL, MKV, DivX or XviD.
So far, I haven't really experienced any serious problems with this software. As a matter of fact, it is very easy to use. I just find it strange that it doesn't have an option for renaming a converted video. After you've converted your video, it will be saved directly into your destination folder. It will use the file's default filename so if you want to change the file's name, you need to do it separately.
Just like what its name suggests, SuperSimple Video Converter is indeed a simple tool that you can use every now and then. It is a very helpful tool that is best suited for those who already have a basic knowledge in editing videos.
Conclusion and Download Link
What I like most about SuperSimple Video Converter is its versatility. It can recognize and convert almost any video file to a different format plus you can also use it to optimize or format the videos that you want to upload to various online video sharing communities such as YouTube and DailyMotion. So if you still haven't found any reliable video converter, I strongly suggest that you try this software. Also be sure to read dotTech's review on best free video converters for Windows.
Price: Free
Version reviewed: 2013.3
Supported OS: Windows 2003, 2008, XP, Vista, 7 and 8
Download size: 7.54MB
VirusTotal malware scan results: 0/47
Is it portable? No
SuperSimple Video Converter homepage
Related Posts