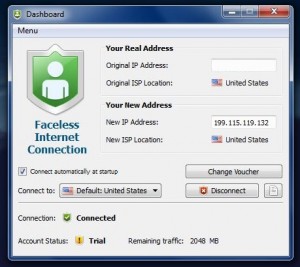 One way to protect your personal information or browsing habits is to anonymize your network connection. This can be done through several VPN services or clients. A VPN will essentially mask your real IP address by assigning you a fake one from a remote location. The entire process is a bit more complicated than that, but the main point is that your real address doesn't show up. Unfortunately, many VPN services and clients offer only costly subscription plans. There are free alternatives out there like Spotflux, TunnelBear, Hideman VPN and VPNium. Faceless.ME is a Windows application that offers a combination of free protection and subscription based protection, allowing you to choose which option is right for you. Of course, the free version does have several limitations which we will explore in greater detail below.
What is it and what does it do
Main Functionality
Faceless.ME is a VPN application for Windows that allows you to anonymize your web traffic. Although the free version includes several limitations which are only removed after users have payed for a subscription. Free users are only allowed up to 2GB of monthly data, and they can only connect to US based IP addresses. In addition, advertisements are placed at the very top of your browser window. Still, there's a lot of functionality available even with those limitations.
Pros
Offers a free VPN for anonymous browsing service
Very easy to use- it automatically connects to a remote VPN server upon launch and minimizes to the system tray
You can see both your original IP and VP IP, along with relevant location data
You can browse complete internet traffic and connection logs locally
Minimal in terms of resource usage
Cons
During installation you will be prompted to install the Faceless.ME toolbar. Just pay attention while you're clicking through the various dialogue buttons and ensure you choose the "custom installation" option to disable the additional install. This is pretty standard fanfare for freeware based applications, yet it's still certainly worth noting.
VirusTotal returned a potential flag (1/47), with Antiy-AVL detecting a "Trojan/Win32.Foreign.gen." It's likely that this is a false positive due to the Faceless.ME toolbar offered during install though proceed with caution, as always.
The free version has quite a few limitations

It has a 2GB data cap for regular use, and a 1GB data cap for mobile use
Ads are delivered to the top of your browser window while traffic is anonymized
You can only connect to US based remote VPN IPs

While Faceless.ME protects your information from websites you visit, it isn't clear what Faceless.ME itself does with your data (such as IP address, websites visited, etc. Remember, a VPN that gives you anonymity over the internet does not necessarily protect your privacy.
Discussion
VPN clients and services are becomingly increasingly more popular, as the general setup process becomes easier and easier. Long gone are the days where only advanced and resourceful web enthusiasts browsed the internet anonymously. Thanks to modern VPN clients, even casual users can mask their identity while browsing. It is because of that VPN clients now usually include one-click setup.
Faceless.ME is no different in that regard. In fact, once the application has been launched it will automatically connect to a remote VPN server and set everything up. It minimizes down to the Windows system tray, and can be called upon by right clicking on the related icon or double clicking on it. A right click brings up a context menu, while a double click opens the Faceless.ME window right up.
The main window will prominently display your real IP address, your ISP location and the corresponding VPN info. As I mentioned above, the free version will only assign you US based IP addresses.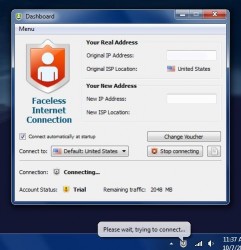 If you don't want the application to connect you automatically at startup, you can disable this feature through a simple checkbox in the main window.
Luckily, Faceless.ME will monitor your VPN bandwidth usage and display it in realtime for you. Since free users are only allotted 2GB maximum bandwidth, this tool is absolutely necessary. It will display the remaining data you have left to use right in the main window. If you don't wish to pay, then I recommend using the VPN connection sparingly when you want to anonymize your web traffic. That's one of the main caveats of this app when compared to others. Because you're only allowed a specific bandwidth, you need to manually activate and deactivate the VPN connection. It's much easier when the VPN service has no bandwidth limitations, and you can just leave it running at all times to secure all your web traffic instead of just some of it.
Faceless.ME does correctly mask your IP address, at least it did multiple times in testing. Even performing a simple IP query will turn up the remote VPN server instead of your real IP address. I did notice a bit of slowdown in terms of web browsing and regular internet usage. In many cases, internet traffic can suffer a bit when using a VPN as it has to tunnel through several sources before reaching your location. That being said, you won't generally notice a difference in browsing speed when using a VPN. Long story short, it is right to expect at least a little slowdown. In the case of Faceless.ME, slowdown certainly happens, though it's not unbearable.
What is slightly unbearable, at least in my opinion, is the fact that the free version also offers up advertisements which appear at the very top of your browser window. Apparently, this is something the developer's feel you need to put up with. It can be easily removed by purchasing a subscription; the prices are $19.95 for three months and $29.95 for six months.
Conclusion and download link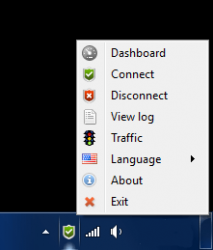 Faceless.ME is a VPN client for Windows that allows you to mask your real IP address with that of a remote server and browse the internet anonymously. It offers both free and premium services for users, although the free variant has a bunch of limitations. Those limitations include a 2GB bandwidth cap (for VPN data usage), US IP addresses only, and advertisements which are displayed at the top of your browser window. Those limitations can easily be removed by purchasing a subscription, but there are other apps out there like TunnelBear, Spotflux and more that offer you better surface in via their free versions.
As soon as you start the application up, it automatically connects to a remote VPN server (unless you disable this function) and then minimizes to the system tray. For the most part it requires no input from the user to connect and anonymize traffic. That's the real benefit with this app, the ease of use. For some, the blinding limitations may not be acceptable though. For those, look elsewhere.
Price: Free
Version reviewed: 1.3.12
Supported OS: Windows 8/7/Vista/XP
Download size: 5.8MB
VirusTotal malware scan results: 1/47
Is it portable? No
Related Posts