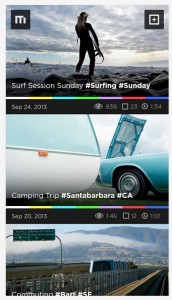 There aren't many video editing apps out there for mobile devices. Of course, you have the obvious options like Vine and Instagram (which now offers video support), but those services are very limited. MixBit is a video editing tool for Android that was actually developed by the very same "creators of YouTube" (Chad Hurley and Steve Chen). You can create video clips of one second in length all the way to one hour, and you can edit or publish them as necessary.
What is it and what does it do
Main Functionality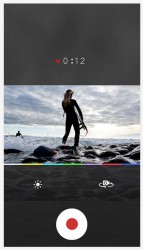 MixBit is a video creation tool for Android devices. Videos are actually recorded in small 16 second segments called "clips," which are stitched together to create one long video. The maximum size is one hour which is about 256 individual clips. You can edit videos before and after publishing, or you can save projects locally to manage them later. Through the MixBit web portal, users can collaborate with others by remixing videos and making their own edits. Some users can even create a video with existing content from the community instead of shooting their own footage.
Pros
Create videos by remixing and rearranging clips which are comprised of sixteen second segments
Trim or duplicate clips
Save individual clips locally, and import clips or photos for use in the final video
Add social tags, location data or publish to connected social networks
Take community uploaded videos and remix them, or add clips from them to your own compilations
Cons
The real focus with Mixbit is the social aspect, if you want to store videos locally only you'll have to look elsewhere

You can't even store complete videos locally, you can only save individual clips (16 second segments)

There are no hipster filters or photo effects to apply
Discussion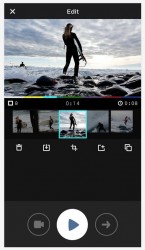 Mixbit is not a traditional video editing tool in the sense that you can take existing videos or home movies and begin editing them. In fact, the biggest limitation is that you can only edit videos recorded natively with the app. Furthermore, videos are broken up into segments called clips. At their longest clips are a maximum of sixteen seconds, but they can be shorter.
Essentially, the way Mixbit works is that you can rearrange and remix these individual clips in order to create a more compelling video. It certainly encourages artistic vices, as you can put together pretty much any type of video using these methods.
In order to save and upload videos you will need a proprietary Mixbit account first. It can be easily setup through the app settings, and you are also prompted when you try to upload a video.
The total length of any one video can be a maximum of an hour long. That's significantly different from similar services like Vine or Instagram which only allow you a few seconds total. If you want to edit longer videos, this is certainly the best platform for that.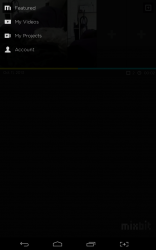 Personally, one of the biggest questions I had about this app was- do I have to upload everything online for public viewing? You see, I shoot a lot of video with my smartphone and tablet. Most of the videos include my one year old niece, whom I would never want to plaster all over a social network. I like to keep family videos private, but it doesn't mean I don't like to edit them for quality. That being said, is it possible to edit videos and store them only locally?
The answer to that very simple question is no, at least not at this time. Everything you create with Mixbit must be uploaded to your connected social profile. You can however, list videos as private so only those with the proper link can view them. This brings up a question of privacy and security for a lot of people. The honest truth is that content stored online (even private) is never guaranteed to be totally secure. You will need to make up your own mind whether or not you're comfortable with that.
For the time being, I've made the conscious decision not to edit family videos with this app. I will continue to share silly videos and longer content than I otherwise would be able to with Vine or Instagram.
While editing, the video will preview the entire video in sequence by playing clip after clip until the end. Once it has finished playing it will start over again in one continuous loop. You can pause playback at any time by tapping on the video or interacting with the appropriate dialogue button.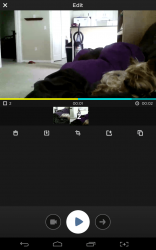 When an individual clip is selected, you can save it to the stock gallery. Believe me when I say that's a whole lot different than saving the full video. You can also import a locally stored clip or photo in order to add it to the final video. You can trim the length of the existing clip, and you can also duplicate it if necessary. If you don't like a particular segment, then you can simply remove it from the video by trashing it.
When you're all finished editing, you can then choose how to share the video: public, private or draft. A draft is still uploaded, but it's only visible to you. A draft is considered an unfinished project, though I suppose you could save a video using the setting to keep it visible only to yourself. You can also add social tags, a location (GPS) and post the video to Facebook or Twitter. The other entries are optional of course since you could just leave those fields blank.
You can also pull content stored on the network from other users to remix it or add it to your own videos. In this way, you can truly create a cute kitty compilation of all the weird things that cats do. To some, that will be a turn off especially if you don't feel comfortable with others remixing your personal content.
The key to Mixbit is clearly the social features, which I'll admit leaves me disappointed. It seems like every app these days is putting more of an emphasis on a proprietary social network, which is unfortunate because we already have plenty. I would be a lot more interested if this app offered local video editing features to compliment the social aspect.
If you're into the social stuff, then this app will likely appeal to you.
Conclusion and download link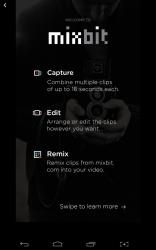 Mixbit is a social video editing tool from the same creators of YouTube. If you're the type of person that wants to edit existing video content and store it only locally, you'll have to look elsewhere. This app was designed to offer social collaboration and social features, on top of the simple media editing. Personally, I approached the app looking for something quite different so I was a little disappointed. That being said, it's a great app for what it offers. There are no hipster filters or unique effects to add instead videos are separated into smaller sixteen second clips. You edit videos by rearranging these clips. The most interesting feature is that you can shoot videos in excess of an hour long, which is significantly longer than what's possible with Vine or Instagram. In addition to sharing your own content, you can save and remix videos that have been uploaded by the community.
Price: Free
Version reviewed: 1.0
Requires: Android 4.0 and up
Download size: 8.9MB
Related Posts