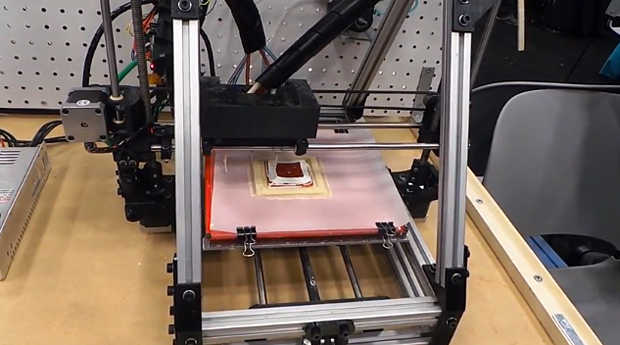 3D printing is slowly becoming something that might actually stick around for a few years. We've seen so many 3D printing ideas popping up on a regular basis, but this one bakes the cake, get it? Alright that wasn't funny at all. Anyway, at the SXSW Eco conference, a company showed off a 3D printer that practically prints out your food.
We're not joking here ladies and gentlemen along with the occasional garden gnome. The idea of the food printer came about after NASA said it wanted to send Astronauts to Mars, so obviously the Space Agency would have to feed these people one way or the other. Therefore, mechanical engineer Anjan Contractor came up with a brilliant plan that could one day change the way we cook our food.
The prototype Anjan revealed to the world just sat there and fricking churns out 3D printed pizzas at will. It's pretty awesome to watch this printer doing the unthinkable, which makes you wonder what else it could print for human consumption. We here at DotTech would love to have a well cooked 3D printed lobster, a glass of wine and a hat.
Unfortunately, patrons were unable to give the 3D printed pizzas a taste since the FDA does not yet approve the machine. But hey, you know what? If we were there, we would have definitely swiped a slice of that pizza. Let potential sickness and diseases be damned, we want a piece of that 3D printed pizza.
[via KXAN]
Related Posts