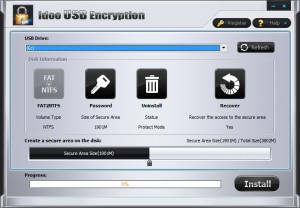 Encryption plays a very important part in keeping your data safe from prying eyes. That is why dotTech has a review of the best free encryption programs for Windows, including software that allow you to encrypt USB flash drives. However, if you aren't happy with our recommendations on freeware encryption tools, idoo USB Encryption is another program you can try. Let's see if it is worth your time.
What Is It and What Does It Do
Main Functionality
As the name suggests, idoo USB Encryption is a program that allows you to encrypt files stored on USB flash drives. idoo USB Encryption creates a "safe area" and a "public area", with the encrypted files being stored in the safe area and require password to be accessed and the pubic area being accessible like normal without password
Pros
Lets you store encrypted and non-encrypted files on USB drives (flash drives, thumb drives, external drives, etc.), vis-a-vis safe area and public area
Uses AES-256 encryption
Lets you control how large safe area you want on your drive
Safe area of USB drives are accessible on any computer as long as password is known, no need to have idoo USB Encryption installed
You can open the safe area of USB drives as read-only
You can change the password of safe areas right from the safe areas themselves — no need to have idoo USB Encryption installed
Easy to use
Cons
Crashed my computer when I tried to uninstall it (BSOD); after recovering from crash, everything appears to work as normal and idoo USB Encryption has been uninstalled
As per my tests, requires admin access to use, not only to run idoo USB Encryption but also to open the safe area of USB drives
Offers only basic USB encryption capabilities — provides no features that other freeware or shareware programs don't have, definitely doesn't offer any features to make this program worth $30

For example, there is no setting that lets you set it so the safe area of USB drives is automatically closed after X minutes of inactivity or when computer is hibernated

Hasn't been updated since Feb 2012. Although the program works just fine as-is, I wouldn't want to purchase any shareware program that hasn't been updated in over 1.5 years.
No offline Help documentation
Discussion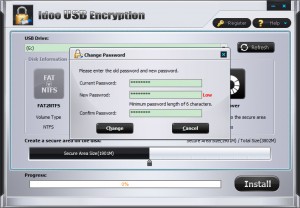 The way idoo USB Encryption works is it creates a "safe area" on your USB drive. In this safe area, all your files are encrypted and can only be accessed if the password protecting the safe area is known. All other files are in the "public area", which is simply a fancy name for the unencrypted files on your USB drive.
Using idoo USB Encryption is easy. Simply run the program, select the USB drive you want to store encrypted files on, set the maximium size of the encrypted area, select your password, and go — idoo USB Encryption almost instantly creates your safe area (although speed will depend on your computer and target USB drive), but do take note FAT32 USB drives will be converted to NTFS (without data loss).
Once a safe area is created on a USB drive, all you have to do to open the safe area is launch it from your USB drive, enter your password, and the safe area is opened/mounted as a separate drive in Windows Explorer from where you can open/add/delete/move/rename/etc. any and all files in the safe area. (Be sure to manually unmount the safe area when you are done, or simply disconnect your USB drive because idoo USB Encryption has no automatic unmounting features.)
The good thing about the safe area is that it is accessible without needing idoo USB Encryption installed. In other words, you can access the files inside a safe area and add/delete files as desired on any computer — even if the computer doesn't have idoo USB Encryption installed. The bad thing? You need admin access to open the safe area… which is pretty much a deal-breaker for many people.
Conclusion and Download Link
In my opinion, idoo USB Encryption is a poor program. Not only does it provide just the basics of file encryption on USB drives, it also isn't really that usable as a USB drive encryption program due to how you need admin access to access the safe area of your USB drives. I don't recommend this program.
Instead of idoo USB Encryption, I recommend you read dotTech's review on best free encryption programs for Windows. In particular, SafeHouse Explorer works extremely well for USB drive encryption purposes.
Price: $30

Version reviewed: 3.0

Supported OS: Windows XP, Vista, 7 and 8
Download size: 1.9 MB

VirusTotal malware scan results: 0/47

Is it portable? No
Related Posts