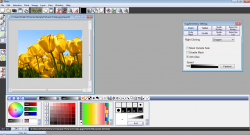 The problem with today's most reliable graphic editing software is that they are not available for free. In order to use them, you need to pay or else, you will get stuck with a free trial version. So it would really be nice if you can use a free graphic editing tool that is as good as those paid versions. Speaking of which, you might become interested in trying out this free digital painting and drawing tool called Pixia Graphic Editor.
What Is It and What Does It Do
Main Functionality
It is important to note that this current version of Pixia Graphic Editor is just a translated version of the original software. The original software is in Japanese but it has received a lot of good feedback from its users. Moreover, the Pixia Graphic Editor is ideal for beginners who are just starting their journey to graphic design and digital art. With the help of this software, you can create lots of creative digital paintings and drawings by using a variety of tools and options.
Once installed, you can readily launch the software from your list of available programs and you can immediately start creating your first art project. Aside from this, this graphic editing tool also features a very lightweight and responsive interface. It's just that you may not be able to fully understand the way it's supposed to be used unless you read its "How-To" guide. Anyhow, you can start drawing some simple things by using the software's brush tool, select and fill options.
Pros
Lightweight and very responsive UI
Lots of available tools and options for creating digital art – ex. brushes, copy, paste, select, fill, auto fill, color picker, color palette, eraser, brightness and contrast adjustment, zoom, grid, ruler, filters, burn, dodge, etc. There's also a tool for adding or inserting text.
Supports layers and multiple work files – you can open and work on multiple projects at the same time
Supports different types of image formats – can open and save the following image file formats – .bmp, .dib, .ico, .jpg, .jpeg, .pict, .pct, .png, .psd, .pxa, .rgb, .tga, .tif, .tiff, .wmf, .mpo
Can directly import files from scanner and camera
Compatible with today's most commonly used graphic tablets
Cons
There are certain tools and options that were not properly translated
Aside from the "How-To" guide that is available in the ReadMe file, there is no built-in help file and user guide so you have to manually search for additional resources and online tutorials
It's difficult to adjust, resize and reposition the control panels according to your liking. The same goes for the canvas window.
Latest v6 does not support Windows XP or Vista. You can get v5 if you are on XP or Vista.
Discussion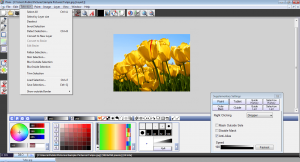 I do not really have any high expectation about Pixia Graphic Editor but if there is one thing that I like most about this free graphic editing tool, it's none other than its fluidity and responsiveness. Even without using a graphic pen and tablet, you can use this tool to draw or paint a wide range of objects. It quickly reacts to the movement of your mouse so it is not difficult to use especially when you are trying to draw a straight line or curve.
Since this software is just a translated version, you might notice that some of its tools and options were not properly translated into English so you basically have to rely on your intuition. Furthermore, this software doesn't have a built-in Help File and user guide so you have to figure out how to use the tools on your own. You could also look for tutorials that were already published online by those avid Pixia Graphic Editor users. If you already have some experience in using MS Paint and Photoshop, then you will probably learn to adapt to this software's tools and options.
Functionality wise, this graphic editor does a good job in helping you create various types of digital art. You can even use this tool to create digital drawings for comic books, magazines and manga. Furthermore, this software is also compatible with today's most commonly used graphic tablets so it is not that difficult to use especially if you already have a basic experience in creating digital art.
Nevertheless, I do find its UI a bit difficult to adjust and customize. It's responsive and very stable but you cannot easily resize and drag its control panels and windows. It's like whenever I try to set the color panel in compact mode, some of its important sections won't show up which is quite disappointing especially when I want to set my drawing canvas on full screen.
Conclusion and Download Link
Pixia Graphic Editor is great for beginners who are still not that well-versed especially when it comes to graphic editors. This software is also good for people who are simply fond of creating digital drawings as a hobby. However, this software has a couple of notable drawbacks that could possibly hinder you from doing the type of art that you want. So my best advice would be for you to download and use this software according to your own discretion so feel free to check it out.
Also be sure to check out dotTech's review on best free image editors for Windows.
Price: Free
Version reviewed: 6.00e (English edition)
Supported OS: Windows 7 and Windows 8 (32 bit/64 bit)
Download size: 14.5MB
VirusTotal malware scan results: 0/45
Is it portable? Yes
Related Posts