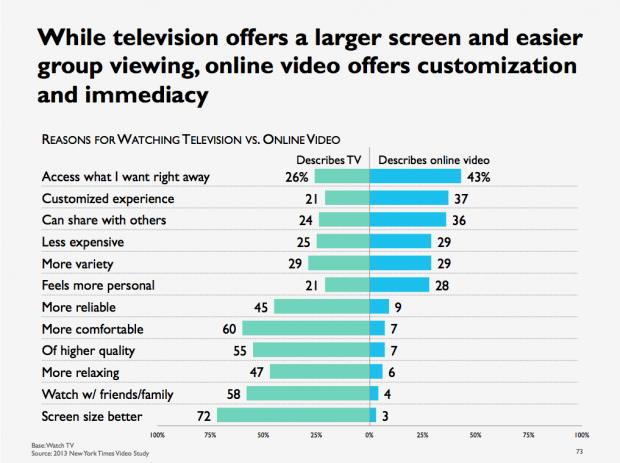 According to a survey by the New York Times, as reported by Mashable, TV viewership seems to be diminishing generationally. The study finds that at least 1 in every 3 millennials watch less TV in favor of online video, or outright no TV at all.
Furthermore, 50 percent of the 18 to 34 year olds surveyed said they watch online video at least once per day. This is clearly a sign of the future, as everything on Television will find its way onto the Internet. In addition, 34 percent of the millennials surveyed said they mostly watch online videos or no TV whatsoever.
Moreover, 20 percent of Generation Xers and 10 percent baby boomers say they have a strong interest in online video. The survey got even more interesting when it was revealed that 25 percent of respondents watch less TV than they did a year prior.
Now, when the candidates were asked why they prefer online video, as opposed to TV. 56 percent of millennials surveyed said they prefer online video because they can access content immediately, while 49 percent said they like having the option to watch multiple episodes online. Another 44 percent seems to have a sweet spot for streaming content via a mobile device.
Watching videos online has become a popular pastime that will eventually kill TV broadcasts. Prepare yourselves ladies and gentlemen, for in a few years down the road, the television will become a niche.
[via Mashable]
Related Posts