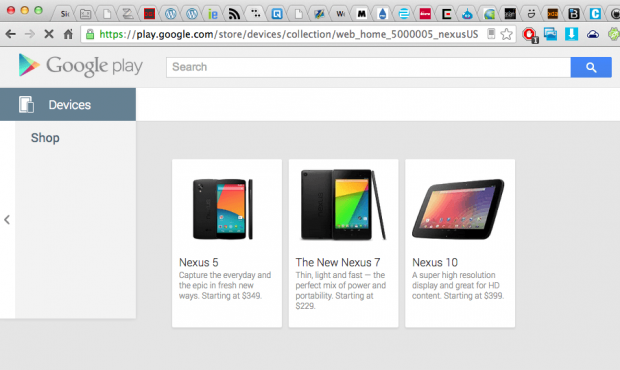 After multiple leaks detailing the design and specifications, now the price of the Nexus 5 has been leaked. Thanks to Google which accidentally added the Nexus 5 to its list of devices on the Play Store along with the price of the upcoming and the much awaited smartphone.
According to the Google Play Store leak, the Nexus 5 should be available in the market at an impressive price of $349 for the 16GB version. If this pricing is assumed to be correct, the Nexus 5 will be a steal for the specifications it offers. For those of you who have not managed to check out its specifications, the Nexus 5 is expected to flaunt a 4.95-inch Full HD display, blazingly fast Qualcomm's Snapdragon 800 processor, 8MP rear camera, LTE and wireless charging support. The phone will launch alongside Android 4.4 KitKat which is expected to bring some changes to the UI and messaging services.
The Nexus 4 was launched at $299 for 8GB and $349 for 16GB model. Seeing the trend, the price of the Nexus 5 justifies the specifications and Google's effort to bring high-end hardware and the latest software for buyers and that too fully unlocked. They have managed to build a fan base for Nexus devices and for users who hate the customized UI smartphone makers lay on top of stock Android.
The Nexus 5 is expected to launch alongside Android 4.4 most probably on October 28th according to some hints provided by KitKat's Twitter account.
[via Arstechnica, imagevia Phandroid]
Related Posts